I've been obsessed with the word knish for a week now.  I had no idea what a knish could be, but boy did the word get me.  It all started when I watched whatever works again and they got a knish the word just stuck with me.  After googling knish and founding out what a delicious morsel it actually was I knew I had to make it.  The first thing I had to change was the potato filling, my boyfriend is allergic to potato and I would rather have him hives free, enjoying a knish than me being selfish and tempting him.
After looking for a vegan recipe and not being able to find a dough that was potato free I came up with my own recipe and I'm sure glad I did.  The crust is so flaky, soft and delicious.  The filling is so amazingly creamy and delicious that you will finish all these in record time.
SAVORY SWEET POTATO KNISHES – 8 knishes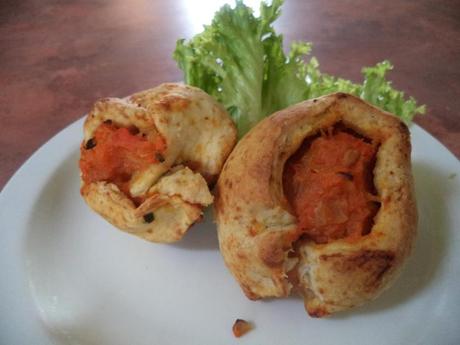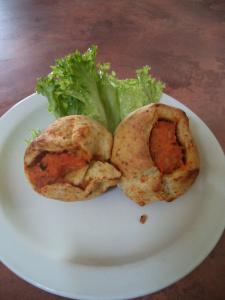 Ingredients
Dough
1 1/2 cups all purpose flour
1/2 tsp salt
1 tsp baking powder
1/2 tsp baking soda
1 1/2 tbsp olive oil
1/2 cup water
Filling
2 sweet potatoes, peeled and chopped
2 small carrots, peeled and chopped
1/4 cup soy milk
2 tbsp margarine
1 tbsp fresh thyme, finely chopped
1/2 tsp paprika
salt and pepper to taste
1 medium onion, chopped
3 cloves garlic, minced
1 small green chilli, chopped (optional)
2 tbsp olive oil
Directions
Preheat oven to 450F
Mix the flour, salt, baking powder and baking soda in a bowl. Add the olive oil to the flour and mix until it looks like bread crumbs.  Add the water slowly, mixing until you have a smooth dough.  Set the dough aside for 10 minutes.
Put the sweet potato and carrots in a pot of boiling water.  Cook until tender and can be easily pierced with a fork.  In a large pan heat the oil and start frying the onion, garlic and chilli.  Cook until the onions slightly browned.
When the sweet potatoes are done, add the margarine and milk and mash until creamy.  Add in the paprika, thyme and season.  Taste and adjust.  Fold in the onion mix and set aside.
Roll out the dough in a large thin sheet (rectangle).  Line sweet potato mixture along the edge, leaving about an inch margin from the edge.  Bring the edges of the dough over the potatoes and form a roll.
Cut the roll into 2 inch pieces and place onto a greased baking sheet with one potato side down.  For a nice golden color, brush the dough with a little bit of soy milk.
Place in the oven and bake for 15- 20 minutes.  Serve immediately
I'm attaching a video on how to roll a knish here – how to roll a knish