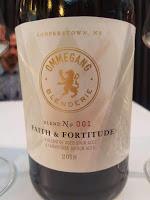 If you are a fan of Brewery Ommegang's Three Philosophers blended beer then you would be interested to know that the Cooperstown New York brewery has launched Blenderie Ommegang, a project focused entirely on very small-batch blended beers. Since the 2002 release of Three Philosophers, the brewery has released other blended beers using combinations of barrel-aged dubbels or two very different saisons or even a mix of stainless steel-aged lactic sours such as in the Pale Sour. According to Ommegang Brewmaster Phil Leinhart, "with blending, we can create flavors and layers of complexity that are otherwise impossible to achieve".
Using this philosophy, Blenderie Ommegang will release blended beers in a more timely fashion with the first two releases in the series blended with beers from two of Ommegang's sister breweries in the Duvel Moortgat family: Liefmans Craft Blenders in Belgium and Firestone Walker Brewing Company's Barrelworks in Buellton, California. "With access to a range of beers from world-class breweries, we can multiply the possibilities and take full advantage of the amazing talents within the family," explained Ommegang President Doug Campbell.
The initial blend Faith & Fortitude debuted at the annual SAVOR: An American Craft Beer & Food Experience and is a combination of aged sour ales and farmhouse saisons. It weights in at a moderate 6.5% ABV and hit several fruit notes from tropical to citrus to stone fruits enveloped with a saison funk. The beer finishes dry and savory.
Look out for the upcoming second release, Zen & Zymurgy, a mixed fermentation sour with a delicate saison base and four distinct yeast cultures. In the meanwhile I'll be headed to Norms to bring home a few 750s of Faith & Fortitude. Cheers.