One of my most favorite things to do is save time and money.  I guess that's two things, isn't it?  Oh well.  I find that if I double or triple recipes when I'm cooking them, then freezing the rest, saves time (because it doesn't take much longer to cook more at one time) and money (because I can buy in bulk).
This method works very well with one of family's favorite dishes, spaghetti and meatballs.  Not the store bought meatballs, but homemade meatballs.  My hubby and I have been making these since the early days of our marriage.  Not only is it delicious, but it's a relatively fast dinner (ready in under an hour even when I'm making huge quantities).  A family friend gave me a Betty Crocker Cookbook at my bridal shower, and it was been well used and loved.  Our meatball recipe comes from that cookbook with a couple of alterations over the years, but not many.
Meatballs freeze really well and make a quick, hearty dinner on a busy night.  These meatballs are wonderful in so many recipes.  While we usually serve them in spaghetti sauce, you can also serve them in a cream sauce, with sweet and sour sauce, with Yoshida sauce (one of my favorite appetizers),  and many other ways.
Let me begin with the recipe.
Meatballs
Adapted from a recipe in the Betty Crocker Cookbook
1 pound ground beef or ground meat of choice
1/2 cup dry bread crumbs
1/4 cup milk
3/4 teaspoon salt
1/2 teaspoon soy sauce (or Worchestershire)
1/2 teaspoon pepper
1 tablespoon dried onion (or 1/4 cup diced fresh onion)
1 egg (or egg substitute)
Mix together ground beef, milk, and egg.  Add salt, pepper, soy sauce, and dried onion, and gently mix until well combined.  Add bread crumbs and mix well.
Roll into balls (or use a metal scoop) and place on a foil lined cookie sheet.  (The foil will make cleanup easier.)  Bake at 350 degrees Fahrenheit for 20-25 minutes until light brown and cooked through.  Serve as is or with your favorite sauce.
To Freeze: Let meatballs cool for 10-20 minutes.  Put into a large freezer Ziplock bag.  Label bag with contents and date.  Remove excess air and seal.  Store in the freezer for up to 1 month.
Here's my photo step-by-step.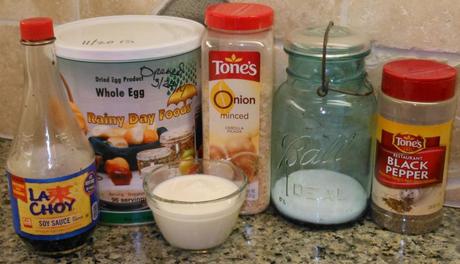 As always, I started by assembling my ingredients. I decided to use powdered eggs instead of fresh eggs, because I was running low on my fresh ones, and I didn't feel like running to the grocery store.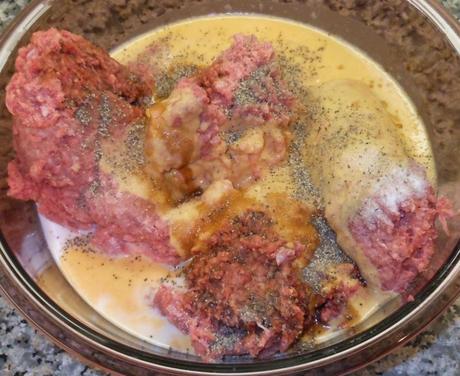 I added the reconstituted powdered eggs, fresh milk, salt, pepper, and soy sauce to my ground beef. Please note that I quadrupled this recipe, so this step-by-step will show a whole lot more meatballs than you will get out of one pound of ground meat.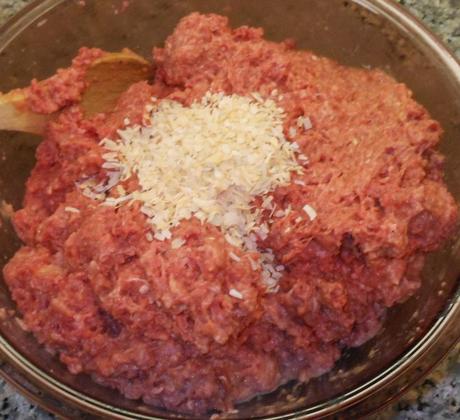 Next, after mixing the meat, eggs, milk, soy sauce, and spices together, I added the dried onion. You may use fresh onion if you prefer.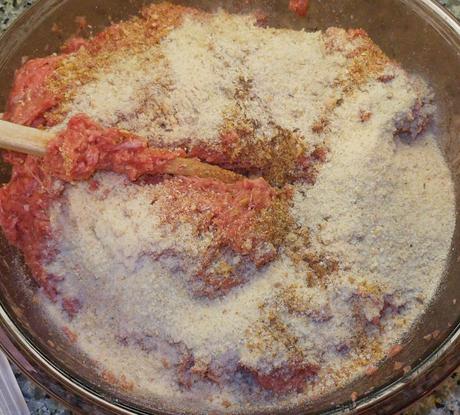 Finally, I added my bread crumbs. Some of these are store-bought bread crumbs, and some are bread crumbs I made. (See that post here.)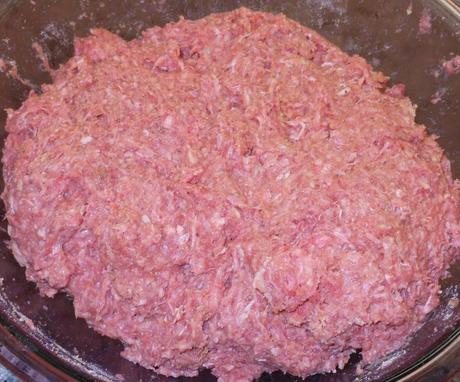 I mixed the meat well, and they are ready to cook.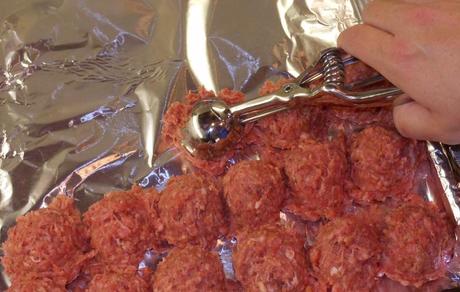 I used my handy medium (2 tablespoon) scoop to form the meatballs. My husband hates a dense meatball, so I take care not to pack it too tight.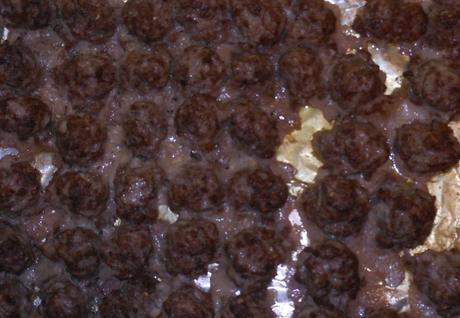 Here are the meatballs after cooking. I take care to leave the grease and cooked meat juices on the pan and use only the meatballs by removing them one by one with tongs.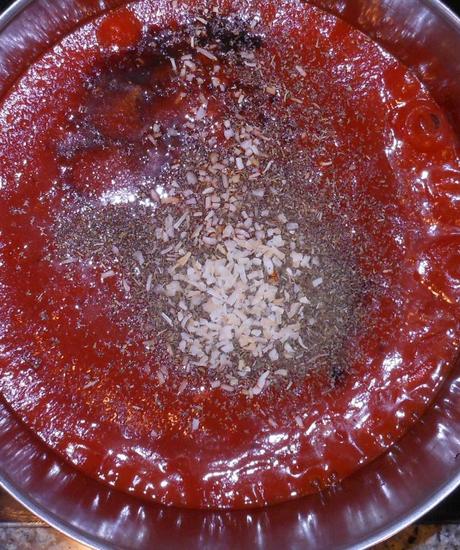 Our favorite way to eat these meatballs is with spaghetti sauce. I use a simple jarred sauce (like Ragu) and add stuff to it to make it to our tastes. I added pepper, soy sauce, Italian seasoning, and balsamic vinegar.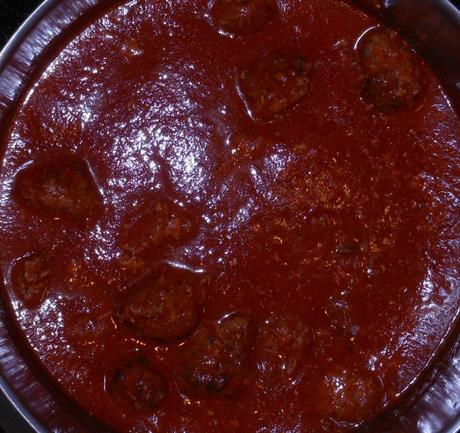 I added the meatballs to the sauce, and let them stew for at least 10 minutes. The longer you let them simmer together, the better, so if you have an hour or so, let them stew so the flavors combine.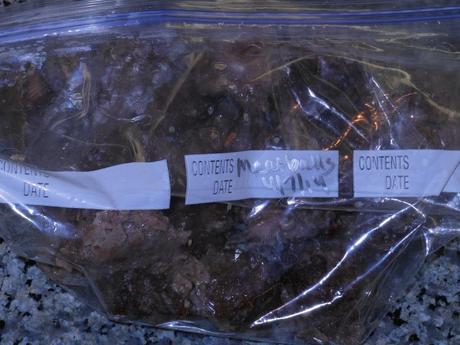 And here's my favorite part: I put the extra meatballs into a freezer bag, labeled it, and stuck them in the freezer for another day. I used these a couple of weeks later on a crazy day. Dinner was on the table in about 30 minutes (including the time to cook the pasta). Not too bad, huh?
How do you save time and money?  Is saving time and money important to you?
* * * Don't forget to enter my April giveaway today.  Click here. * * *