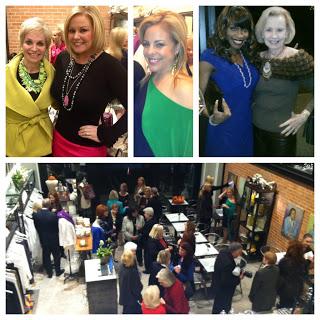 (top) Carmaleta Whiteley & Shay Geyer, Amy Vanderoef, Nicole
Barrett & Yvonne Crum (bottom) the scene at No. One Les Jus 
Shay Geyer
, co-chair for the
25th Annual
Mad Hatter's Tea
benefiting the Women's Council of the Dallas Arboretum had her "Fairy Godmother"
Carmaleta Whiteley
by her side last night for the Kick-Off Party announcing some exciting changes for next year's big event.
So, where was her partner-in-crime, fellow co-chair
Maggie Kipp
? In the hospital, busy delivering
Caroline Greer Kipp
into the world. But, in true form, Maggie was on Facebook from her hospital bed commenting on friends posts. Even labor couldn't totally keep her away from last nights fun.
Phyllis Comu, Karen Lukin
,
Good Morning Texas
host
Amy Vanderoef, Angela Choquette, Janet Fresqeuz, Yvonne Crum, Jill Rowlett
and
Harriet Gibbe
were among those in attendance to hear what fabulous things are in store for next Spring's soiree.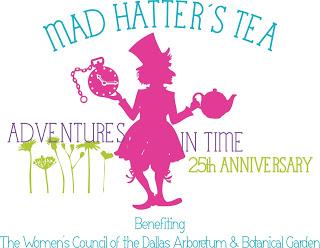 Geyer excitedly announced that the 25th anniversary event on April 11, 2013 will be themed "Adventures in Time" and showcase the spectacular fashions of Roberto Cavalli and Oscar de la Renta.
Patty Dedman Nail
will serve as the 2013 honorary chair.
And as for that explanation about why Geyer considers Whiteley to be her "Fairy Godmother"? It seems that Whiteley, last year's co-chair, will be serving as an adviser to Geyer and Kipp. Every event chair should be so lucky as to have a Fairy Godmother as fab as Carmaleta!
The hat categories will be:
Gents Top Hats ~ Timeless 
Most True to Theme ~ Back To The Future  
Botanical ~ Adam and Eve 
Most Whimsical ~ Roaring Twenties 
Most Elegant ~ Court of Versailles 
Best of Show ~ 25th Anniversary 
Most Outlandish: Wild, Wild West
Shane Walker,
 you better get ready!  The hat orders are about to start pouring in and it's gonna be hard to top
last year's event
!! I think I want to go with a Roaring Twenties look... Call me, we'll chat about what fabulous chapeau you are going to create for me!