If you've been anywhere near Downtown Dallas in the last year, you can't help but have noticed the massive construction project taking place over Woodall Rodgers Freeway.  The Park will serve as a central gathering space for Dallas and its visitors to enjoy in the heart of the city. The 5.2-acre deck park will create an urban green space over the existing Woodall Rodgers Freeway between Pearl and St. Paul streets in downtown Dallas. Plans include a performance pavilion, restaurant, walking trails, a dog park, a children's discovery garden and playground, water features, an area for games and much more.
Connectivity is central to The Park's purpose. The Park will promote increased pedestrian, trolley and bicycle use between Uptown, Downtown and the Arts District, contributing to a more walkable city center.  The Park will create a front lawn for the surrounding cultural offerings including the Dallas Center for Performing Arts, the Dallas Museum of Art, the Morton Meyerson Symphony Hall, the Nasher Sculpture Center, the Trammell & Margaret Crow Collection of Asian Art, Booker T. Washington High School for the Visual and Performing Arts and the future Museum of Nature and Science.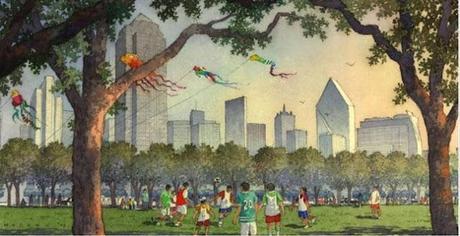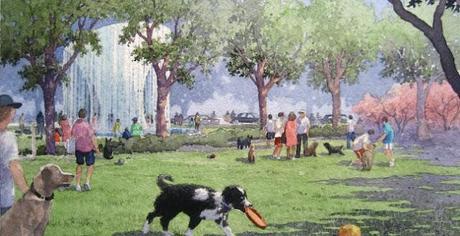 In a statement released by the Woodall Rodgers Park Foundation Board today, the dates of October 27 and 28, 2012 have been set for the grand opening. It promises a multiday round of activities reminiscent of the weekend-long celebration that inaugurated the Margaret Hunt Hill Bridge in March.
"It's the big reveal," said Mark Banta, park president. "It's a celebration for something that people have waited a long time for with great anticipation."  He said one of the purposes of the park was to bridge a stretch of Woodall Rodgers Freeway that had been a concrete moat between downtown and Uptown.  "We want to celebrate that we're now all connected," he said.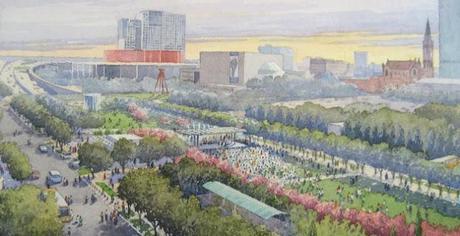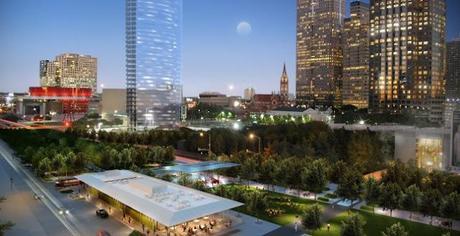 The activities, free to the public, will include music, arts performances and activities for children.  There will also be presentations from other cultural institutions in town, including the Perot Museum of Nature and Science, whose opening will come next year.  But officials remained shy about details.  Although they had earlier discussed having a major concert on the Saturday of the opening, there was no mention of that event in the latest news release.  Banta said arrangements had not been finalized for many of the events and further details would be announced in the coming months.
The $110 million amenity was funded through a combination of city bond money, state highway funds, federal funds and private donations.  "Whether you call the park the city's heart, the front lawn or the town square, it's clear that Dallas is ready to turn an old freeway into a truly special destination," said Jody Grant, chairman of the Woodall Rodgers Park Foundation Board.
For more information visit http://www.theparkdallas.org
Renderings provided by The Park.
source