Gas prices may be soaring along with the temperatures but that does not mean that you have to spend a fortune on your summer vacation with Fido. Doing a little research, planning and strategizing ahead of time can save you both time and bucks without pinching too many pennies on safety and for pampering and missing out on all the fun.
Taking Fido with you means that you will start your vacation ahead of the curve by saving kennel and boarding fees ($30+ a night). Create a budget, bank the bucks and keep a reserve on hand just in case.
Book a reservation at a pet friendly venue during the week (Sunday through Thursday) that either does not charge a pet fee, one that charges a refundable fee or one that charges a small fee for the entire stay and for more than one pet, if you have more than one (rather than a daily charge). $10-30 for an entire stay is reasonable. $50 per pet per night is exorbitant. Avoid holidays and weekends when the prices soar. Take advantage of specials such as Very Important Pet Packages that include amenities and pampering activities such as massage, grooming, doggie menu items or spa time.
Booking with chains such as Red Roof Inn or LaQuinta that offer membership discounts, free WIFI and breakfast can also reduce costs. Or an all-inclusive resort may be the best way to go depending upon where you are traveling. Camping is another option for budget friendly outings.
Avoid expensive hotel fees for phone calls and WIFI by making calls on your cell phone, a prepaid cell phone and getting online at the library or other places that offer free WIFI.
Check out the best gas prices online using GasBuddy.com, http://www.gasnearu.com/ , http://www.gaspricewatch.com , http://www.motortrend.com or an app.
If you are a member of AAA, you can have one of their travel experts plan your trip. And you can obtain books with maps and information on your destination(s), including prices, that you can take with you.
Bring snacks, treats and water with you for humans and canines to munch on while traveling to cut down on stops at fast food places and road venues with higher prices. At each of the rest stops, you can easily feed the beasts and walk them.
Plan local dog activities that don't bite into your budget such as swimming at the beach or lake, visiting dog parks, shopping at pet stores and malls that accept pets, tastings at pet friendly wineries, hiking trails and more. There may also be doggie special events, parades, and /or festivals that you can attend for free or low cost. You might splurge taking a class or two on surfing, agility or doggie yoga.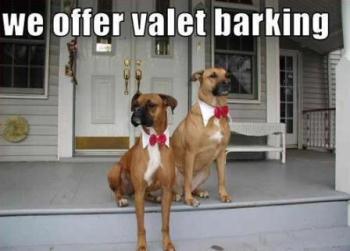 If you are renting a car, be sure that it is with a pet friendly car rental place such as Hertz, Avis, Advantage, Dollar, Budget and National. Avoid extra fees for fur by covering up the seats with blankets and sleeping bags and/or put pooch in a kennel. And same goes with the hotel. There is no reason to pay extra hairy fees if/when you are prepared with your own doggie towels, sheets and plastic to cover the furniture. Rinse and wipe muddy / sandy paws outside the room.
 
Having Fido's favorite bones, toys and chews on hand will also save you from having to pay extra fees for boredom and/or destructive chewing in inappropriate places such as hotel furniture.
Bring Fido's food with you so that there are no upset tummies to deal with and no extra costs. Even when you eat at pet friendly restaurants (patios), your dog can enjoy their regular meal. The hotel concierge, local visitor bureau and/or pet friendly travel blog (such as Have Dog Blog Will Travel) should be able to provide a list of possible venues where you and Fido can eat together.
Research local doggie daycare and/or pet sitters in case you want to visit amusement parks, castles and/or other local attractions that do not welcome dogs. A few hours without Fido can still be fun without breaking the budget.
If you are traveling with a bully breed or a dog that LOOKS like a pit bull (whatever that means or another banned  breed such as Rottweiler, German Shepherd or Corso), steer clear of places that have strict Breed Specific laws such as Denver and Miami. And be sure the hotel has no breed, weight or size restrictions.
Be prepared for emergencies. Know where the local vet is and the cost of an emergency visit. And pack a first aid kit that can take care of minor incidents and keep Fido pest free. Research local flora and fauna and keep away from the poison ivy, oak, snakes, ticks and other possible bugs that can spoil your vacation.
 You and Fido deserve to have a fun and memorable holiday away from home. Using the tips above, you will be able to relax and enjoy your time together.