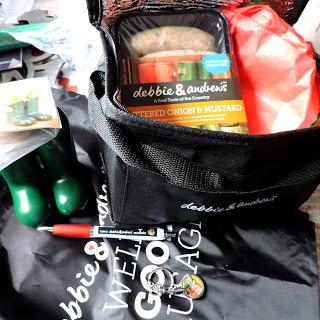 The people at debbie & andrews recently sent me a package of their new Buttered Onion & Mustard sausaged to try and so I created a delicious supper dish with them that celebrates not only the flavor of these delicious sausages but also lovely autumn flavours.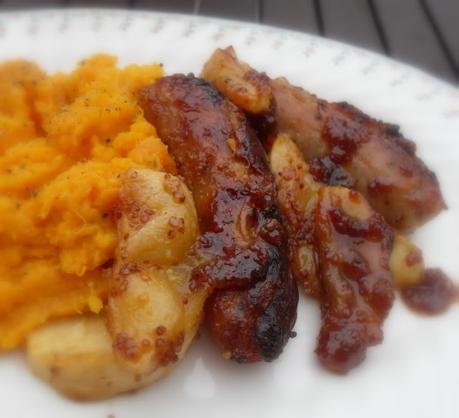 There is a delicious mustardy apple sauce to serve with these meaty sausages and a butternut and sweet potato mash.  Altogether quite fabulously delicious!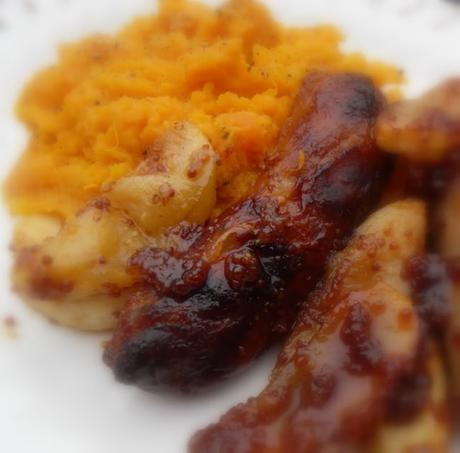 My Todd is a real sausage and mash man.   I love mash too, but I like to shake things up every now and again. This is a really healthy version of mash.  I love butternut squash and I love sweet potatoes. The two together are bliss and go so well with sausages.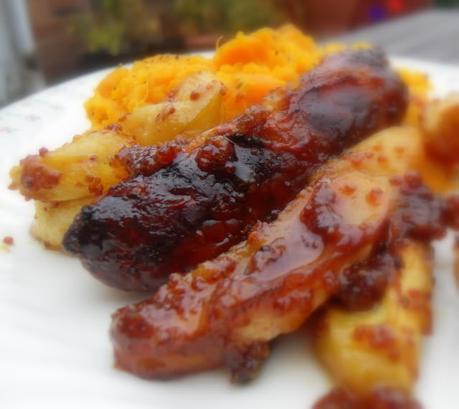 Especially with these lovely sausages which are created with Sauteed buttered onions, mild wholegrain mustard and a splash of blossom honey.  Rugged, rustic and gluten free.  Sausages produced the old fashioned way using British meat from Red Tractor approved farms.  The perfect autumn banger!   We loved them.  (No surprise there as we love all of the debbies & andrews Sausages!)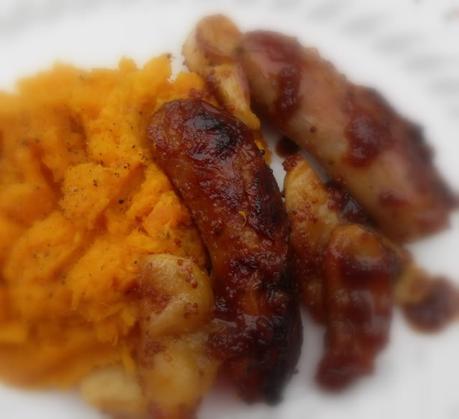 *Sausage with Autumn Mash*  Serves 4.
Printable Recipe
A simple and delicious weeknight supper that your family will love. 
8 good quality pork sausages(I used debbie & andrews Buttered Onion and Mustard)2 apples, peeled, cored and cut into wedges
(I like to use Granny Smith because they hold their shape well and have a lovely tartness
2 TBS whole grain Dijon mustard
2 TBS runny honey
a good splash of cloudy apple juice
1 medium butternut squash, peeled, seeded and cut into chunks
2 large sweet potatoes, peeled and cut into chunks
extra virgin olive oil
sea salt and freshly ground black pepper
Preheat the oven to 200*C/400*F/ gas mark 6.  Put the sausages onto a baking tray along with the apple wedges.
Whisk together the mustard, honey and apple juice.  Pour over the sausages and apples, tossing to coat all over.
Bake in the oven for 20 to 25 minutes, shaking stirring now and then to prevent sticking.
While the sausages are baking place the squash and sweet potatoes into a lightly salted pan of boiling water to cover.  Bring back to the boil, then cover and simmerto 15 minutes until tender.  Drain well and return the vegetables to the hot pan.  I then placed the pan back over low heat and mashed them until they dried out a bit.  I stirred in a knob of butter and a good seasoning of salt and pepper. 
Serve a generous scoop of mash piled with two sausages, some apples and some of the sticky pan juices to each lucky person.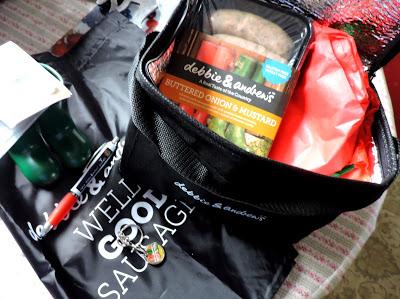 Sausages are such a versatile meat and they don't need to be only eaten for Breakfast. With the wide variety of flavours that debbie & andrews offers, you can use sausaged to put extra meatiness into a wide variety of meals..  Sausages are always easy to cook and you can trust debbie & andrew's sausages to be delicious and add a special touch to any dish whether it is a potato bake, meaty pasta dish or simple sausage sarnie.  For those who prefer their meat free range, debbie & andrew's make a selection of great regional sausage recipes based on meat from pigs that live safely outdoors.  For more information of debbie & andrew's latest products, new ranges, charity projects, micro sponsorship schemes, recipes, and products just visit www.debbieandandrews.co.uk or Facebook www.facebook.com/debbieandandrews or Twitter @d_a_sausages. 
debbie & andrew's sausages are available through Amazon Fresh, Asda, Morrisons, Ocado, Sainsbury's and Tesco, priced between £2.00 and £3.50 dependent on retailer and promotions.
Bon Appetit!  🐖 👌
 Note - I was sent a pack of sausages free of charge but not required to write a positive review. (Many thanks to debbie & andrew's!) Any opinions are my own. I quite simply like these sausages and they are always my sausage of choice.  I use them all the time.  My favourites are the Harrogate 97% and the Cumberland.  These were lovely too.