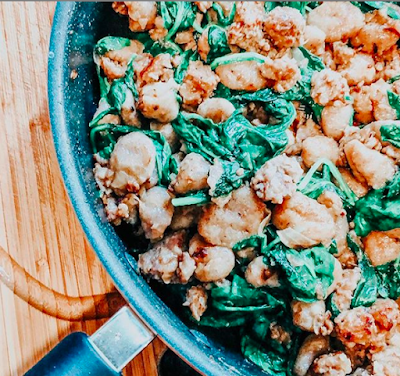 My family is a huge pasta lover ( and egg roll in a bowl fans ) but I do like to add a little greens to the mix for some balance. A few years ago Zach and I were living at my parents house to save money for our first home. My mom had each of us take a turn cooking a meal in the kitchen once a week to serve to everyone else. I always wanted my meals simple with as few ingredients as possible and even more so, time prepping and preparing everything.
I came across this super delicious meal in a magazine and knew how much my family would enjoy it. Here we are about 7 years later and it's still a fan favorite, including my kids, who usually ask for seconds!
The best part is that it actually tastes better left over too! Here's our yummy dish!

Ingredients:
2 9oz packages of gnocchi
1 T olive oil
1 medium yellow onion finely chopped
1 pound Italian sausage
1 clove garlic finely chopped
1 5oz bag of baby spinach
1/4 t salt
3/4 grated Parmesan

Directions: 
1. Cook the gnocchi according to the package directions. Drain, reservign 1/4 c of the cooking liquid
2. Meanwhile, heat the oil in large skillet over medium heat. Add the onion and cook until softened, about 5 minutes
3. Add the sausage and cook, crumbling it with a spoon, until browned, 5-7 minutes
4. Add the garlic, spinach, slat and pepper and cook tossing frequently, until the spinach wilts, about 3 minutes
5. Add the gnocchi, the reserved cooking liquid and the parmesan and toss. Divide among indiviudal bowls and sprinkle with additional parmesan.
Are you a fan of 30 minute meals?Share your favorite pasta dish!