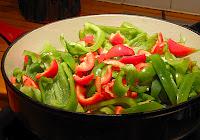 Rarely a week goes by that sausage with sauteed peppers and onions doesn't grace our dinner table. Of all the different meals we cook, this dish is easily the most popular with our family and friends. Sausage and peppers seems to be one of those quintessentially Italian dishes that everyone craves. For this reason, it remains a perennial favorite at most ball parks throughout the country.
Perhaps it is the vibrant colors, rustic simplicity, and rich, lusty flavors that together speak to something primal in the Italian character and cuisine. The appeal of the dish probably lies in the simple combination of the spices of good Italian sausages, the sweetness of caramelized peppers and onions, and the subtle tang of tomatoes. What ever the reason, it will remain a mainstay of our repertoire.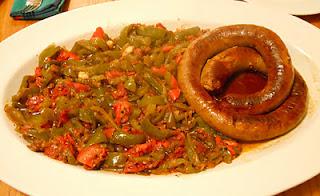 6 links Italian sausage (we like the Hot variety)
2 tablespoons olive oil
1 yellow onion, sliced
4 cloves garlic, minced
2 bell peppers (green, red or yellow), sliced
2 tomatoes, roughly diced OR 1 14.5-oz. can of (Red Gold*) petite diced tomatoes
½ teaspoon dried oregano
Place the sausage in a large skillet over medium heat, and brown on all sides. Remove from the skillet and set aside.  Add olive oil to the drippings in the skillet and stir in the onion and garlic, and then cook for 2 to 3 minutes. Mix in bell peppers, tomatoes and oregano and continue to cook and stir until peppers and onions are tender.
Return sausage to skillet with the vegetables. Reduce heat to low, cover, and simmer 15 minutes, or until sausage is heated through. Add a little water as needed to keep moist and not overcook vegetables.
Transfer to a serving platter and serve along with crusty french-style bread (in case anyone wants to turn theirs into a hoagie!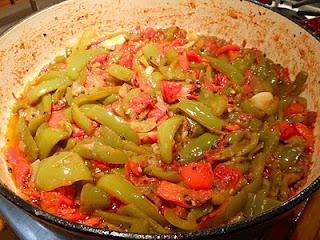 *The kind folks at Red Gold® sent us a variety pack of 6 cans of their tomatoes for us to sample which we used in this recipe. As you can see from the picture they added a gorgeous red color to the dish and a tangy sweetness that would stand up to any San Marzano tomato product on the market.