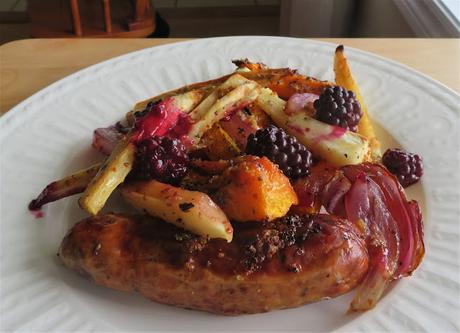 I love sausages and I am always on the lookout for easy sausage recipes.  And if I can cook a meal as an all in one baking sheet meal, then I am even happier.
The recipe for this tray bake meal I am sharing with you today is not only quick and easy, but it has incredibly autumn flavors, textures and colors.  And if you line your baking sheet with aluminum foil, there is not a lot of clean up as well.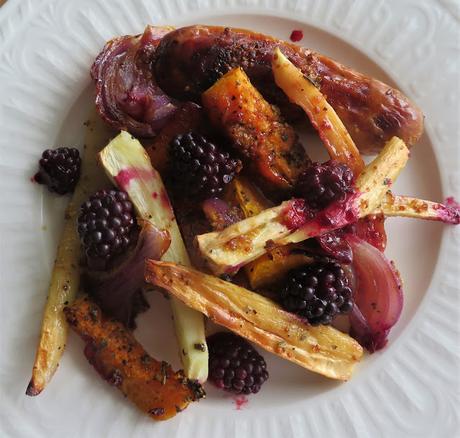 It is also perfectly sized for two people, although you could certainly double the ingredients and make it for four or even more if you wished! 
The recipe is one which I adapted from the
Sainsbury's
site.  Sainsbury's was a grocery chain in the UK and I used to subscribe to their monthly magazine. It was one of my favorite cooking magazines.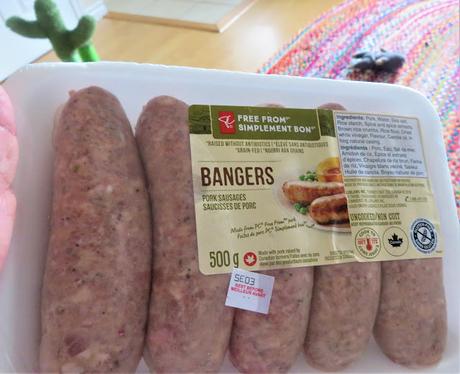 One thing I really loved about the UK was their sausages.  Not the cheap and nasty ones, but the quality butcher's sausages that you could buy. I had my favorites, Cumberland.  I shall miss them here. I may need to study up on how to make my own.
I have found some fairly decent sausage here however. This is what I have been buying and they are really quite good. I have also had their honey garlic ones and their Italian sausage. All are very good. I highly recommend.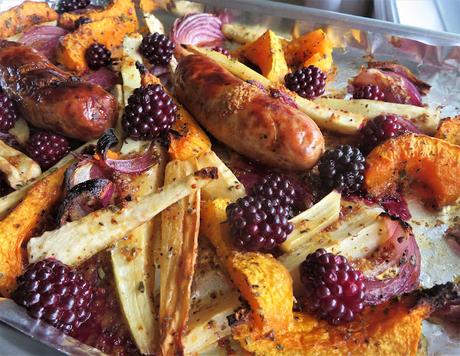 There were a number of thing which appealed to me about this recipe.  One, I could make it completely on a baking sheet. I love sheet pan dinners.
Two, it uses many of the things I love.  Sausages, butternut squash, red onions, parsnips and blackberries.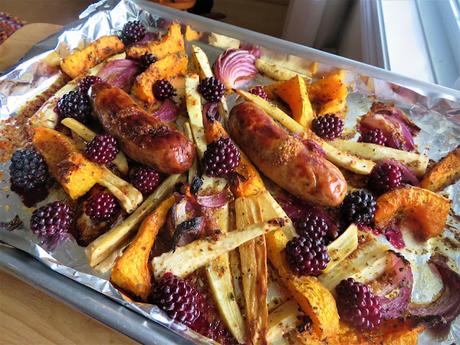 It may sound like an unusual combination with the blackberries, but trust me when I tell you they totally work here.
Pork and fruit are a beautiful and a traditional combination. Think pork chops and applesauce. This is a delightful combination and very autumnal, making great use of ingredients that are available now.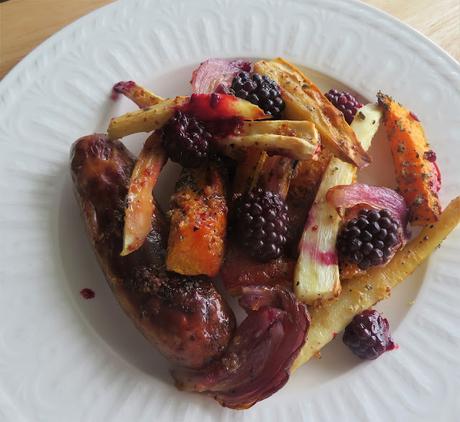 Autumn is my favorite time of year. The harvest is mostly in and we have an abundance of fresh fruits and vegetables available to us. The days are cooler and not so humid.
We can start to enjoy some of our favorite comfort foods again because of the cooler temperatures, and then there is the colors and smells of Autumn.  Oranges and browns and golds.  The smell of bonfires and falling leaves. Its all good.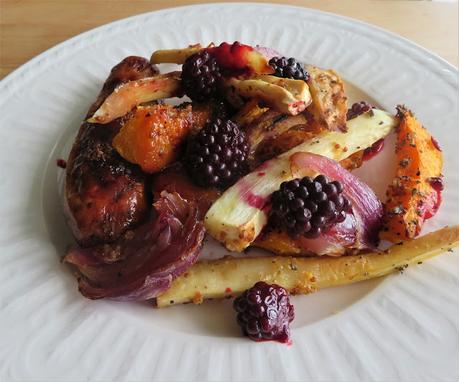 This beautiful one-pan supper embodies all of those things.  You have the convenience of cooking it all on one pan, no fuss, no muss.
You get to enjoy perfectly cooked robust sausages.  Beautifully caramelized parsnips and butternut squash, and onions.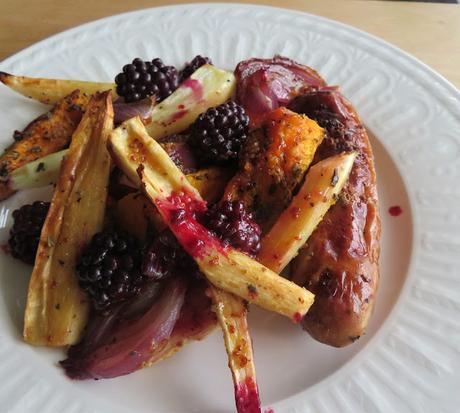 Roasted to perfection and then adorned with sweet/tart blackberries and that lush grainy mustard and maple glaze.
So everything is sticky and tart and sweet and moreishly savory.  Supper perfection I call this. Supper perfection.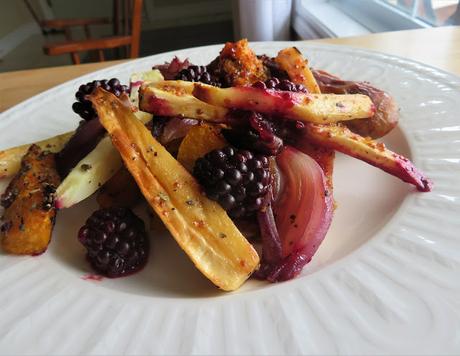 Blackberries are the jewels of autumn and we need to enjoy them fresh while we can!  I shall miss the brambles of England.  
I really shall.  As well as the sausages, but I can at least enjoy the flavors in flavors that come a close second.  I think perhaps this winter I am going to explore making my own bangers. Watch this space!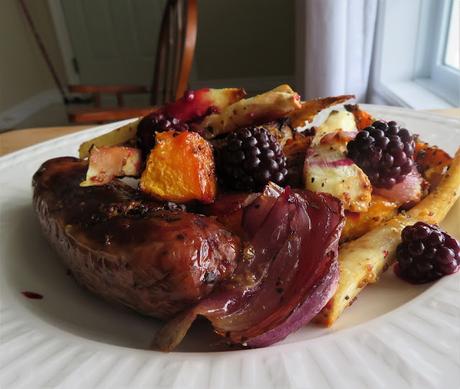 I adore Parsnips. They were not a vegetable we ever had really when I was growing up, although they were very common. My mother hated  parsnips with a passion.
I remember her buying them once and frying them to see if her tastes had changed. They hadn't, but I fell in love. You can find my
Butter Fried Parsnips recipe here
.  Prepare to fall in love.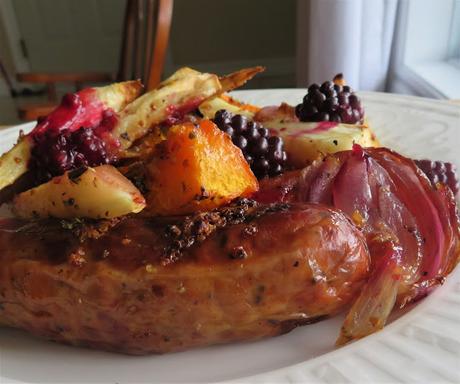 I also love butternut squash. It is my favorite of all the squashes.  I do a lot with butternut squash. 
Here are some of my favorite butternut squash recipes:
Spiced Butternut Squash Soup with Honey and CroutonsChicken with Leeks and Butternut Squash Enchiladas Calabaza Roasted Butternut Squash Lasagna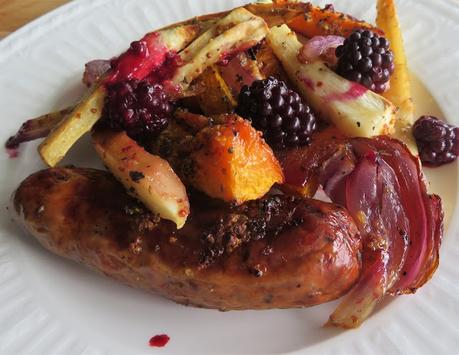 And those are only a few of the ways I enjoy using it.  I also love it simply roasted and mashed.  Lets face it. I really enjoy butternut squash! 
I have fond memories of blackberry picking with my sister on the banks of the Georgian Bay when I lived in Meaford one autumn.  We picked tons and I made blackberry jelly with them.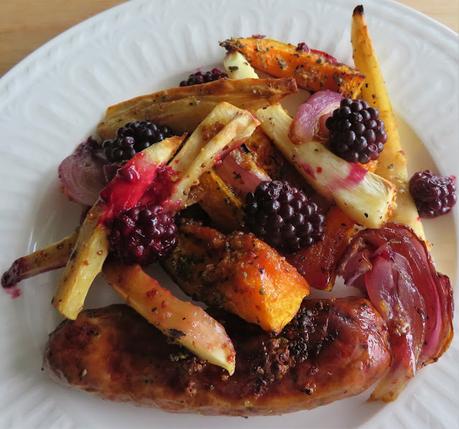 I have not made jelly in years now. I used to so love putting up pickled and jams in the late summer and autumn months.
It would not be practical for me to do so now as I am only one and I can only eat so much!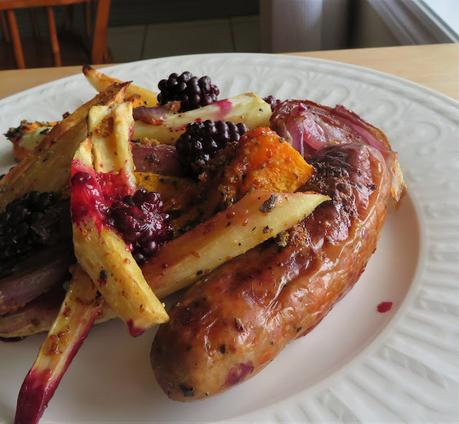 So anyways, unusual or not, I do hope this is something you will want to try!  I think you will enjoy it. In fact I am sure you will enjoy it.
Baked jacket potatoes or mashed potatoes go very well with this.  Just saying. 😇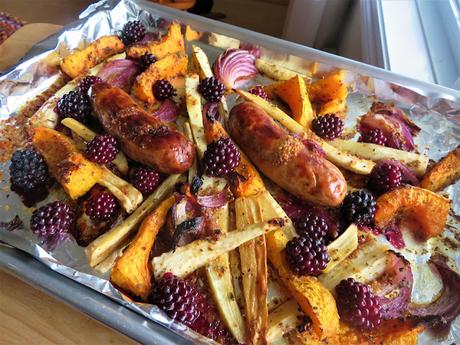 Sausage & Blackberry Tray Bake
Yield:
2
Author:
Marie Rayner
Prep time: 10 Min
Cook time: 30 Min
Total time: 40 Min
This moreish traybake is very autumnal and filled with lush flavors and textures. You can prep all of the vegetables up to a day ahead, banging them onto the baking tray with the sausage when you go to cook supper. If you line the tray there isn't any clean up. No fuss, no muss and perfectly delicious!
Ingredients
1/2 of a medium sized butternut squash, peeled and cut into wedges
2 large parsnips, peeled and cut lengthwise into six pieces each
1 medium red onion, peeled and cut into wedges
1 1/2 TBS finely chopped sage (if using dried use only 3/4 TBS)
2 large banger sausages, or 4 regular sized sausage (use a nicely flavored one)
2 TBS light olive oil
salt and black pepper to taste
2 TBS maple syrup
 1 cup of fresh blackberries (about 150g)
Instructions
Preheat your oven to 425*F/220*C/ gas mark 7.   Line a medium rimmed baking tray with aluminum foil and spray it with non-stick cooking spray.
Prep all of your vegetables and pop them into a bowl along with your sausages, the oil, the sage and some seasonings. Spread them out onto the baking tray.
Roast for 20 minutes.  Remove from the oven and flip the sausages over. Return to the oven and roast for a further 20 minutes. Remove from the oven.
Whisk together the mustard and the maple syrup. Toss the vegetables and sausage with this mixture.  Scatter the blackberries over top. Return to the oven for about 10 minutes or until glazed.  
Divide between two heated dinner plates and serve immediately.  Baked jacket potatoes go lovely with this as does mounds of heavenly mash.
Did you make this recipe?
Tag @marierayner5530 on instagram and hashtag it #TheEnglishKitchen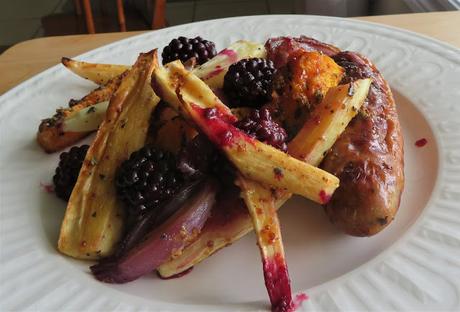 This content (written and photography) is the sole property of The English Kitchen. Any reposting or misuse is not permitted. If you are reading this elsewhere, please know that it is stolen content and you may report it to me at: mariealicejoan at aol dot com 
Follow me on Bloglovin