Sausage and Pepper Panzanella Salad with Smoky Buttermilk Vinaigrette- An easy and delicious meal-in-a-salad!  Fresh veggies, bocconcini cheese, and spicy Italian sausage are tossed with pan-fried sourdough cubes in a smoky buttermilk vinaigrette.  Ready in 30 minutes!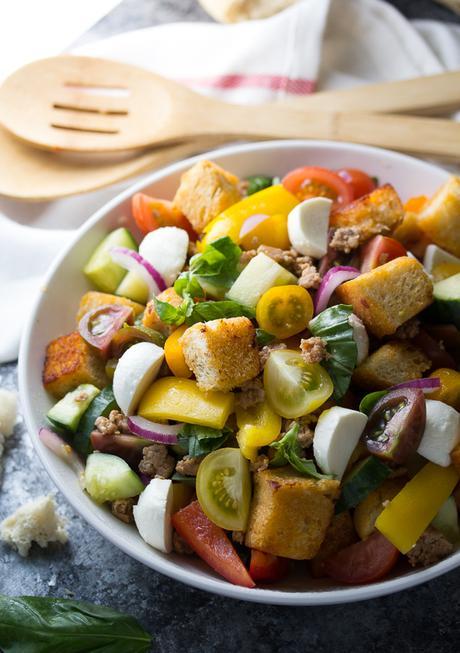 Since I'm working from home these days, I've had the luxury of taking an afternoon exercise break.  It really helps me clear my head and get energized!
I used to be a crazy intense cross-country ski racer, and we would train every day, lift weights, do interval training, long runs, hikes, the whole shebang.  That's all waaaay too serious for me these days.  These days…I Zumba!
I Zumba in the privacy of my own basement.  After doing the DVD and the Wii games for a year, I thought I was getting pretty good.  I was in the zone.  I was doing my thing.  I was shaking my thang.  I thought maybe I should actually go to a real live class?  Publicly Zumba?
But one day, there was a mirror moved down in the basement…and I caught my reflection.  And I saw the most awkward tall white lady, limbs flailing everywhere, missing half the moves, looking like a hot sweaty mess.  And I decided that some things are best left in the basement

Continue reading: Sausage and Pepper Panzanella Salad with Smoky Buttermilk Vinaigrette