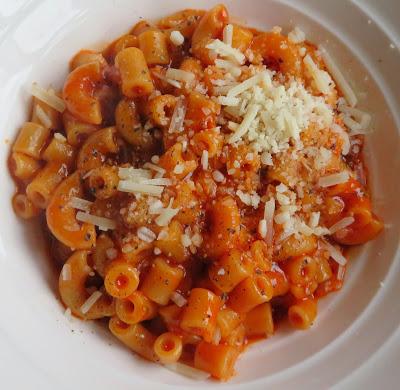 I recently got myself a new cookbook.  I know.  I have plenty of cookbooks, but this one appeared to be filled with delicious looking simple recipes.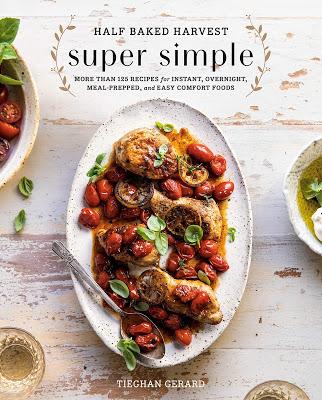 Half Baked Harvest Super Simple by Tieghan Gerard.  So far  I have not been disappointed.  Every recipe I have tried from the book has been excellent.  I highly recommend.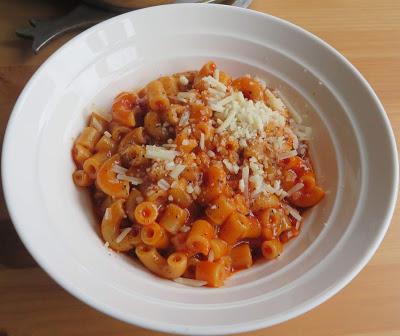 This is a recipe which really intrigued me. Not only was it pasta, which I love, but it was a rif on those tinned spaghetti hoops that children love . . .  with one exception . . .  it is a more grown up version.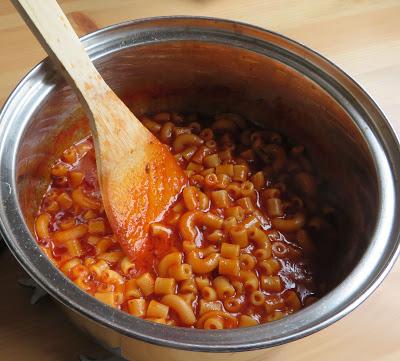 It is also perfectly sized for two, which meant that I got to enjoy some on the day and then enjoy a second feast on it the day after.  I cooked something else completely for Todd. As you know he is not overly fond of pasta, although he does like tinned spaghetti.  Go figure.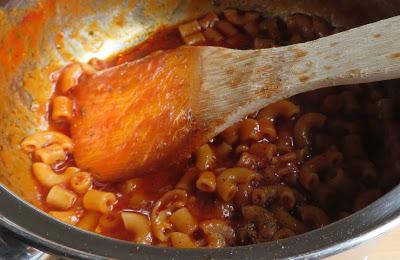 The cookbook author used anelli for hers, which are a type of hoop pasta. I didn't have anything like that to use.  I used what I had, which was a mix of ditalini and small elbow macaroni.  I didn't have enough of either one to make up the full amount.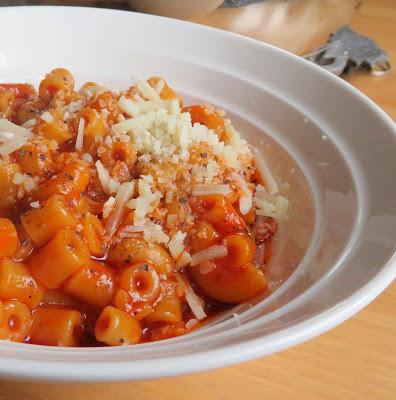 As you can see it worked perfectly.  This was absolutely delicious.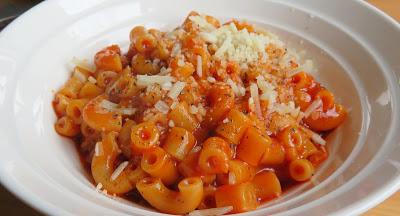 It was also incredibly simple, using very little in the way of ingredients.  It does use fresh rosemary, which I happen to have in the garden.  I wasn't too sure about that as rosemary is kind of a strong flavoured herb, but it
totally
works.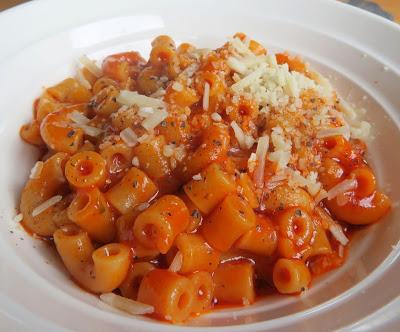 Olive oil is flavoured with first garlic, and then the rosemary and some crushed chili flakes, which provide a bit of heat to the dish.  I don't like my food too spicy, so I only used a pinch.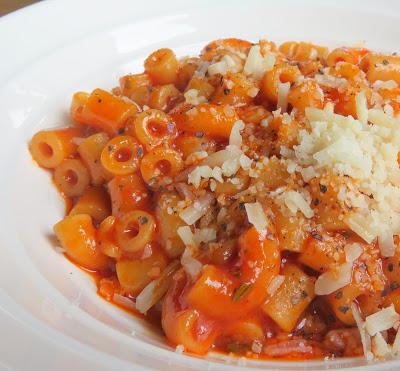 Once the oil has heated and flavoured, you add some tomato puree (tomato paste.)  You need to whisk this in carefully off the heat as it will splatter if your oil is too hot, so don't let your oil get too hot.  Also use a good Olive oil.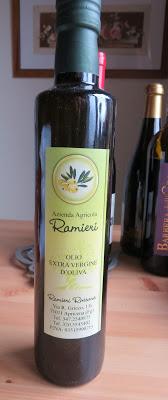 I used Peranzana Extra Virgin Olive Oil - Azienda Agricola Ramieri Rosanna - which I got from
Cibilia
. It is a beautiful premium olive oil, pure Italian and has a really nice flavor. If you are making a recipe with so few ingredients, it helps to use the very best of them that you can, and this is fabulous! Mono arietal Peranzaa from Apulia produced using only Organic Olives, this olive oil is harvest on the family estate of Ramiri Rosanna.  The Rosanna family has a real passion for agriculture and it shows in their products!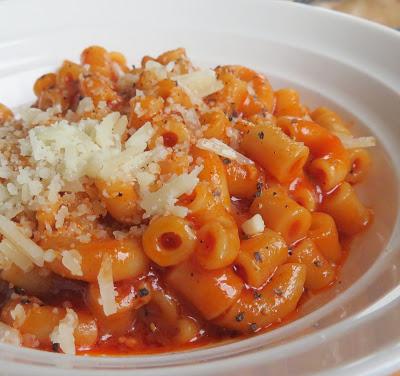 Another ingredient you will need to use is Tomato Puree (Tomato Paste).  You need to whisk this very carefully into the oil mixture. If your oil is too hot it will spatter and could burn you.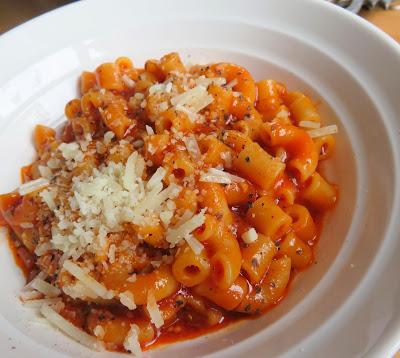 Once you have done that, it is a simple matter of adding a quantity of water, bringing it to the boil and then stirring in your pasta.  Dry pasta.  Yep, the pasta cooks in the garlic and herb tomato water.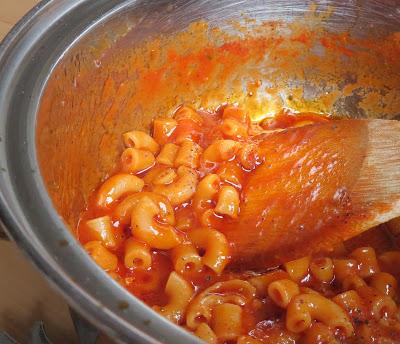 This means that the tomato flavours really penetrate the pasta intensifying the flavours beautifully.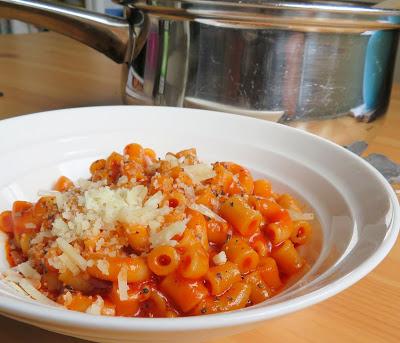 That's basically it, other than some seasoning and a bit of grated Parmesan cheese that gets stirred in at the end.  This was incredibly tasty.  I fell in love with this, totally, and I think you will too.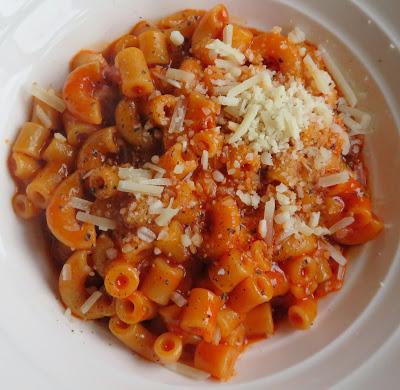 Saucy Pasta Hoops
Yield:
2
Author:
Marie Rayner
Delicious and super simple to make. Adapted from a recipe in the Half Baked Harvest Super Simple Cookbook.
Ingredients:
3 TBS extra virgin olive oil
1 fat clove of garlic, peeled and crushed
2 tsp fresh rosemary, finely chopped
a healthy pinch of  chili flakes (crushed red pepper flakes)
3 TBS tomato puree (tomato paste)
600 ml water (2 1/2 cups)
90g short tubular pasta (I used ditalini and tiny macaroni) (3/4 cup)
fine sea salt and freshly ground black pepper
55g grated Parmesan cheese, plus more to serve
Fresh basil leaves (to garnish if you have them)
Instructions:
How to cook Saucy Pasta Hoops
Heat the olive oil and garlic in a medium sized saucepan with a heavy base over medium low heat. (Make sure the garlic doesn't burn.) Cook, stirring, until very fragrant, only a minute or so, then add the rosemary and red pepper flakes.  Cook for about a minute longer.  (Again, don't let it burn.)
Take off the burner and whisk in the tomato puree.  Then whisk in the water. Return to the burner and bring to a boil.  Stir in the uncooked pasta.  Season with some salt as desired and cook at a slow boil, stirring frequently until the pasta is al dente, about 12 minutes.
Remove the pan from the heat and stir in the Parmesan cheese.  Taste and adjust seasoning with salt and pepper.
Divide between two heated bowls and pass more parmesan for shaking over top.  If you have fresh basil, you can tear some over top.
Did you make this recipe?
Tag @marierayner5530 on instagram and hashtag it #EnglishKitchenCreated using
The Recipes Generator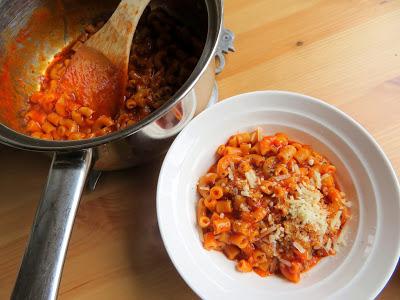 This was pure and simple comfort food.  Perfect for these days in two ways, one it satisfies your need for comfort and two, it uses only a few ingredients.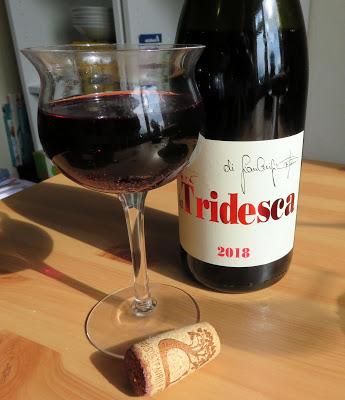 A great wine to serve with this would be this Barbera del Monferrato - la Tridesca 2018. It has a bursting fragrance, vinous, full of freshness and hints of red fruits; a lively flavor and great freshness, with a cheerful and indomitable character.  You can purchase this at
Cibilia. 
Purveyors of fine Italian foods.