The first weekend of Blogvent is always a relief, although we are busy this weekend as it will soon be my daughter's birthday, so there will be a lot of time seeing friends and family.  My cold is still with me but I am fighting it with the power of Happinose, a truly remarkable balm that soothes the skin on your nose and unblocks it all in one.  Honestly, if anyone from Happinose wants to contact me about sponsorship, I'm happy to talk because I have a low-grade addiction to it. It's brill.  You can buy it here, should you want to. I digress, on with the slaughter...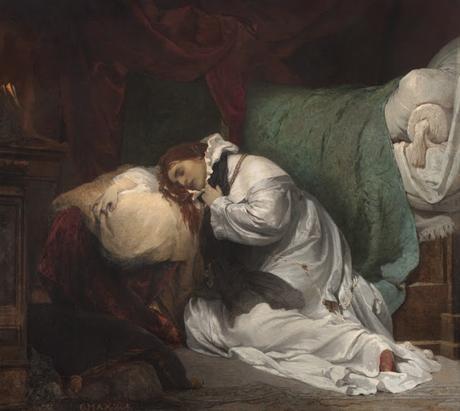 The Martyrdom of St Ludmila (1864) Gabriel von Max
Now this is quite a Christmas-y one actually, in a round-about way. Ludmila of Bohemia (AD860-921) was the Grandma of Good King Wenceslaus, which is marvellously Christmas-y and reminds me of a lovely trip we had to Prague a few years ago.  We particularly loved seeing St Vitus Cathedral with the Wenceslaus chapel, although (spoiler alert) they were not a particularly peaceful family.  Good King Wenceslaus was done in by his brother, Boleslaus the Cruel (not a very hopeful name for a child, to be honest) and as the painting title suggests, Granny was also done over, by Wenceslaus's Mum, Drahomira.  Gosh, I bet Christmas was fun at their house.
Ludmila was Wenceslaus's favorite Granny and she cared about him deeply.  She organised his education and when his father died, she acted as Regent until he was older.  This did not sit well with Wenceslaus's Mum who was a bit jealous of the influence that Grandma had over little King Wenny and so decided to do her in.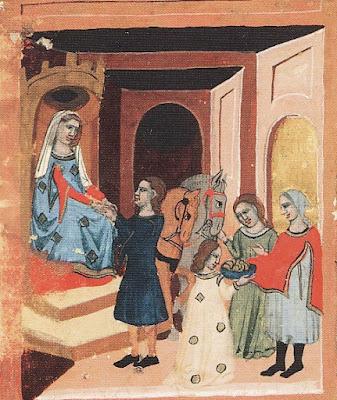 Drahomira hiring assassins, from the Chronicle of Danimil (1330)
According to legend, Drahomira replaced Ludmila as Regent and having sense, Ludmila decided to retreat to Tetin Castle for safety.  Sadly for Ludmila, her daughter-in-law's hired killers caught up with her and strangled her with her own veil.  She was canonised shortly after her death and Wenceslaus was keen to celebrate his Granny, moving her bones into St George's Basilica in Prague and she is declared the patron saint of Bohemia.  She is also the Patron Saint of those who have problems with their in-laws, so definitely one for Christmas in my opinion.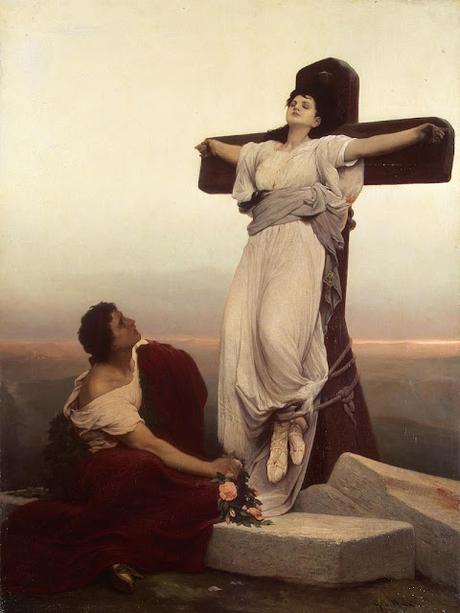 Martyress (1866) Gabriel von Max
Gabriel von Max (1840-1915) was a Prague-born artist with an interest in the mystical and spiritual. He shows Ludmila as a beautiful woman, not unlike his Martyress, from two years later.  She's not exactly what you'd think of as a Grandma, but then things were quicker back then (although I was the age of the Grandmas in the playground of Lily's primary school, but that's another story).  By making her young and beautiful, she is touched by the goodness of God which seems to glimmer through the terrible thing she is going through.  Ludmila's cascade of red hair symbolises her murder which is otherwise remarkably low-key, just the black scarf cutting through the white of her costume. She is innocent and a dark deed has interrupted this.  Wenceslaus' veneration of Lumila must have irritated his Mum no end, but then his brother did him in in a particularly brutal manner a decade later.  Blimey, what a family...
A great present for someone who is spending Christmas with the in-laws has to be a St Ludmila medallion to remind you that things could be worse, you could be a member of Ludmila's family.  That and a tube of Happinose, obviously.
Catch you tomorrow...