Sarson Ka Saag-Mustard green cooked with mild spices
Sarson Ka saag is a very popular winter specialty from the state of Punjab and now very popular all over India. It is a seasonal delicacy and best enjoyed with Makki ki Roti ,white makkhan and buttermilk during winters.
As I am from U.P and in my childhood sarson ka saag was not that popular in my city so never got a chance to relish this dish though I have heard a lot about it. After Marriage when I shifted to Dubai luckily my next door neighbor was a Punjabi sardar lady who happens to be a great cook and a nice soul . So after few days of my arrival she sent a huge bowl of sarson da saag and stack of makki ki rotis for us. I thanked her for the delicious food and immediately took the recipe. Ever since Sarson da saag is my favorite winter delicacy and I always make it few times during the winter season.
Though the recipe of making Sarson da saag is quite easy and simple but the process is little lengthy as it takes quite some time to clean the greens and then washing them properly in lots of water is a must .Then the rest of the work is done by the pressure cooker :).
Though the name is sarso da saag but few other seasonal greens are also added in the saag. I add bathua and palak along with sarson saag but if bathua is not available then you can add some Fresh methi leaves. I add a medium size turnip to give little sweetness and body to the saag.
Traditionally lots of ghee and butter is added in this sarson da saag but you can adjust according to your taste. Serve Sarson ka Saag with Lots of butter , some jaggary, Gobhi shalgum ka achar, , Makki ki Roti orand a tall glass of buttermilk and Enjoy winters !!!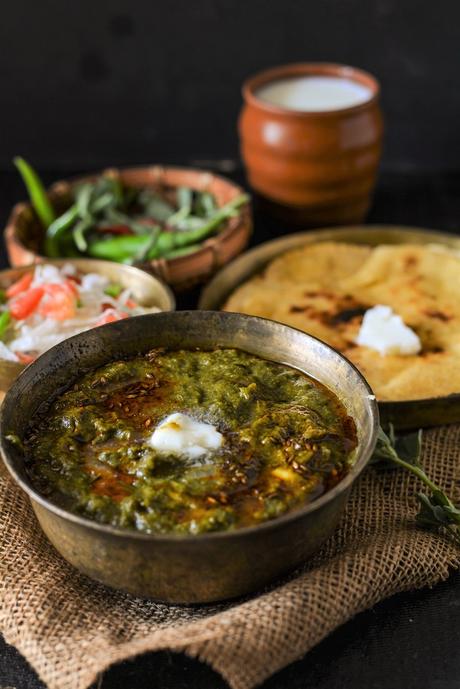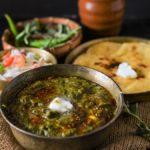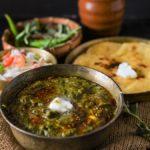 Votes: 7
Rating: 3.29
You:
Sarson Ka Saag Recipe, How To Make Sarson Ka Saag
Sarson da Saag- A winter specialty made with Mustard greens from the state of Punjab
Servings
Prep Time
6 persons
30 minutes
Servings
Prep Time
6 persons
30 minutes