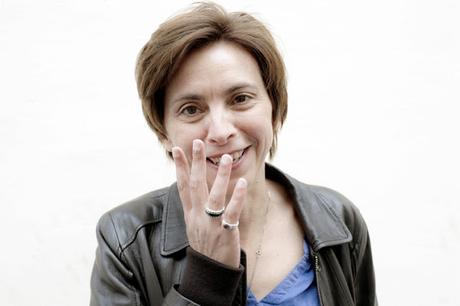 Sarah Leonor Discovers a Great Man
By Terry Keefe
Writer/director Sarah Leonor is one of France's most exciting new cinematic exports. Her latest film, The Great Man (Le Grand Homme), is an extraordinary drama depicting the traumas of war and immigration, and how they ricochet, opens on Friday, August 14 in New York at the Film Society of Lincoln Center's Elinor Bunin Theater, then platforms wider on September 4. Starring Jérémie Rénier (The Dardenne Brothers' Palme D'or Winner L'Enfant), The Great Man is a powerful story about friendship and solidarity and takes a closer look at how men try to piece their lives back together when they've been shattered by war.
Hamilton (Jérémie Rénier) and Markov (Surho Sugaipov) are about to finish five years of service in the Foreign Legion. During their six-month posting in Afghanistan, they wind up amidst a crossfire while out on an impromptu and unauthorized leopard hunt. After Hamilton is shot and nearly killed, Markov risks his own life to save him at the expense of his own dreams of gaining French citizenship. Later, Hamilton is reunited with Markov in Paris. Whilst Hamilton remains in the Foreign Legion, Markov ekes out a meager existence as an illegal immigrant, trying to provide for his young son Khadji. When Markov is killed in an accident, Hamilton is now served by conscience to look after the kid of the man who saved his life.
Sarah Leonor spoke to us recently from her home in Paris. Here's what was said: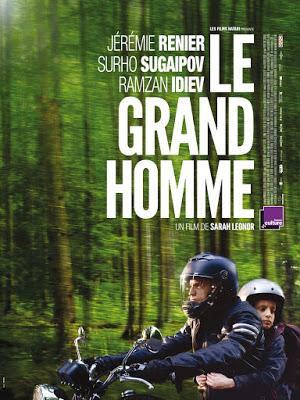 What inspired you first to write this story, then make the film?
It's hard to describe just how an idea for a film comes about. Personal, intimate events inspire me. It doesn't mean that my films are autobiographical. I much rather confront the very personal questions with the world I live in. The initial idea for The Great Man was to tell the story of a strong friendship, one of grief and legacy. I was inspired by the myth of Gilgames, which tells the exploits of two heroic warriors separated by death : It's a universal story and it's as old as the hills. I wanted to place the story within a French contemporary political and social context characterized by a certain nationalist fallback, fear (of the other and of the future), and exclusion. In this context, what does it mean to be a hero, a "great man"?
The U.S. involvement in Afghanistan is very controversial on our side of the Pond. How are both French and U.S. forces being there viewed in France?
In France, the soldiers returning from Afghanistan were not particularly honored in civil society – unless they were unfortunate to lose their lives on the field. Not today nor yesterday would any member of the French society show their support to the troops abroad by placing stickers on the back of their car. In the US, it seems like it's a regular thing. The French presence in Afghanistan was described in the media as primarily logistical and humanitarian, while the US' involvement was related to fighting the Talibans in advanced positions. It was their war of Good against Evil. In any case, it was how people understood things in France. However, this wasn't really what happened: French soldiers were perceived by the Afghan people as invaders alongside the Americans, and were therefore subject to the same reprisal.
The French public opinion got emotional when people died on television, especially when they were young French soldiers dying in combat. Once the excitement is passed, all is forgotten. When I started researching for the script, I realized that these young soldiers were scarcely mentioned in the media landscape, and they weren't represented in French cinema. In France, we're still very anti-war, we carry with us a legacy of a time when military service was mandatory and where generations of young men tried to find ingenious ways to escape and to get discharged from the army. Our parents went to war in Algeria, and for a large majority of them, there was nothing heroic about it: they were just forced to go to war. Today things have changed, the army has become a professional army, some young people deliberately choose to join the army and go into battle. What reason stands behind their decision? What values do they defend? It is fair to ask these questions regardless of your position towards the war or whether or not you like the army. I am far removed from the military world, yet I have sometimes felt that people were uncomfortable when I spoke about my project. I guess they were suspicious that my film would bring up ambiguous ideas, simply because it talked about the war, two military men and the Foreign Legion. I felt like I wasn't allowed to talk about these things because they were not supposed to be my business. That's exactly what I wanted to show with this film: how French society is divided and broken up into small worlds that stare at each other from afar. Everyone's problems, each its interests. The debate that took place in the US did not take place in France.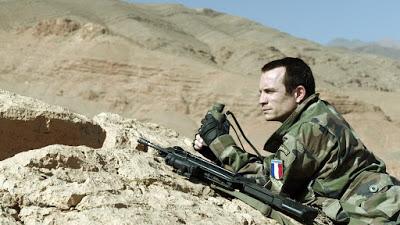 We have a rather romantic view of the French Foreign Legion here, a la books and movies like Beau Geste. What's the reality, and how are they viewed in France compared to the French Army, for example?
My intention was rather to precisely demystify the legionaries. Who are they when they stop wearing their uniforms and what do they become when they have to exist and survive as individuals? The opening of my movie may remind you of Beau Travail. These two heroes appear as demigods not because they are legionaries, but because they are seen through the eyes and described by the words of a child, who sees them as the heroes of an epic. In reality, and we slowly find out as the film unfolds, they're just two guys who are certainly quite brave, but they also have their weaknesses: they especially have trouble existing outside the legion's framework. In France, this section of the army is one of the best known and most fantasized about because it is very secretive. The French army's nickname is "the great mute", and it applies even more to the Foreign Legion. In reality, the myth of the adventurous legionary who wants to erase his troubled past and change his identity has run its course. Most candidates see especially the opportunity to obtain, after 5 years of service, a residence permit in France or, for the lucky ones, to get naturalized. The selection is ruthless, and many drop out along the way.
I sent my two legionaries to another battlefield, that of our society, strong of the same principles of solidarity, loyalty and self-sacrifice that are found in the "Legionary Oath". However, they do not make it: civilian life is supposedly perhaps less dangerous, but it is in any case more complicated and confusing for our two heroes.
Please talk a bit about working with your two lead actors. Jérémie Rénier is one of France's most accomplished and acclaimed young actors, whereas Surho Sugaipov was a non-professional, and an MMA fighter prior to his debut in The Great Man. Was it a different process working with both?
During pre-production, working with Surho Sugaipov had of course nothing to do with working with Jérémie Rénier. In short, working with Surho was like working on a documentary. We talked a lot about his character. Since he is Chechen, some of the scenes in the script that I wrote with my co-screenwriter were not accurate. And I really wanted to draw the most genuine portrait of the Chechen community in the film. Working with Surho was very intense, we talked a lot and I slowly brought him towards his fictional character.
With Jérémie however, we went straight to fiction. Pre-production was more conventional. Jérémie needed to meet legionaries to take on their uniform. He wanted to feel the real weight of military equipment on his shoulder in order to get in character. He did just that beautifully.
And then, from the moment the two of them met, I did not treat them differently. I directed them in the same way. I wanted them to be a mirror for each other. Then I realized that I had picked the right cast for my film, from a human point of view: Surho Sugaipov was not intimidated by Jérémie's professionalism, but was inspired by it. Jeremie attuned himself to Surho and sought harmony, which also influenced his acting. I was very happy to achieve this balance, it was essential.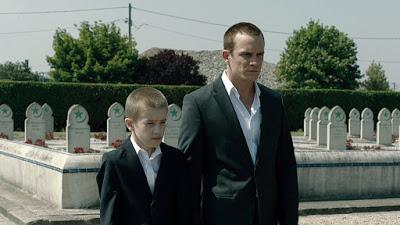 A similar question regarding Ramzan Idiev, who was 13 during production and makes his film debut here.
Ramzan was the most surprising kid we saw when we were casting. He had a huge imagination and was very shy. Yet he exuded an extraordinary force on screen. It was the first time I worked with someone so young, the role was quite intense and I was afraid I would exhaust him. He was extraordinarily brave because it wasn't easy for him to take on this role. Ramzan, his relatives and the Chechen people who took part in the film did so with a mix of seriousness and enthusiasm. They were aware that through this film their tragic fate but also their legitimacy as Europeans today would come to light. I don't know if Ramzan will pursue this career: acting in a film doesn't necessarily mean becoming an actor. What I liked most about him is that he stayed true to who he was: a child in a world of adults. Making movies was never one of Ramzan's dreams. He was bitching a little about the shoot because it took place during the school holidays and he had to get up early to get to set. At the end of the day though, I think he really liked this experience. He gained confidence throughout the shoot because he realized that his role was as important as the two adults'. By the way, all three actors came to me separately during the shoot to ask me: Ultimately, who is "the great man" of the title? And my answer to each of them was: "You, of course!" I wanted each of them to feel like they were the hero of the story. And I sincerely believed in what I said, every time.
Tell us a bit about your background: where you grew up, what your parents did for a living, how you fell in love with film/filmmaking. Regarding the last part, was there one film or inciting incident that made you decide to make films?
I grew up in the East of France, on the border with Germany and Switzerland. My father was a surgeon, and my mother was a secretary in the European institutions. We were very open to other cultures; my parents spoke several languages, listened to lots of music, read books, and liked painting. So I grew up in a fairly privileged environment, until my teens and my parents' separation, which is also when I discovered film. I believe I took refuge in film and it became my only home. Thanks to my sister who was recording movies on VHS tapes, I discovered my first classic films. I would watch them in a loop, almost obsessively: The Great Dictator by Chaplin, The Rules of the Game by Jean Renoir are the two films I watched the most. I wasn't even considering making movies though. I first practiced photography. I traveled. Film came later as an obvious choice, the only activity that could keep me connected to the world.
This is your fourth film and your third feature. What have you learned over the course of your evolution as a filmmaker, and it doesn't just have to concern filmmaking.
" In action, be primitive; In foresight, a strategist" (René Char)
That's what making movies is all about.
What's next for you?
I am currently working on several projects, including one medium-length film that I'll be shooting very soon. I'm also writing two features. One of them is a Western inspired by the true story of French socialist utopists who travel to America in the 1860s to build their ideal society. It's quite an ambitious project but it's also very exciting. What filmmaker does not dream of doing a Western?