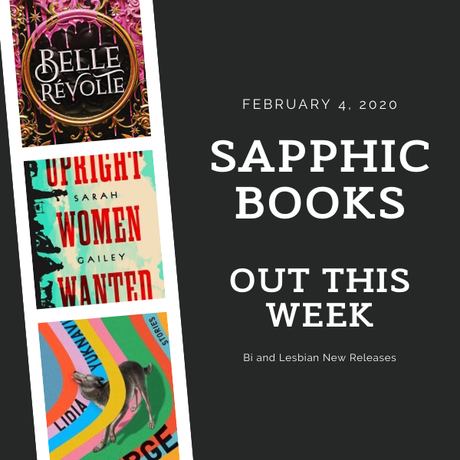 I'm trying out some new regular features at the Lesbrary! Let me know if this would be helpful for you. I'm hoping to highlight some promising new bi and lesbian books coming out each week. Generally, new books drop on Tuesday, so it should be posted every Tuesday. I haven't read these yet, so they're just the publishers' descriptions. Let me know in the comments if this is a worthwhile feature!
Emilie des Marais is more at home holding scalpels than embroidery needles and is desperate to escape her noble roots to serve her country as a physician. But society dictates a noble lady cannot perform such gruesome work.
Annette Boucher, overlooked and overworked by her family, wants more from life than her humble beginnings and is desperate to be trained in magic. So when a strange noble girl offers Annette the chance of a lifetime, she accepts.
Emilie and Annette swap lives-Annette attends finishing school as a noble lady to be trained in the ways of divination, while Emilie enrolls to be a physician's assistant, using her natural magical talent to save lives.
But when their nation instigates a frivolous war, Emilie and Annette must work together to help the rebellion end a war that is based on lies.
[asexual biromantic main character, lesbian love interest]
The sequel to Dread Nation is a journey of revenge and salvation across a divided America.
After the fall of Summerland, Jane McKeene hoped her life would get simpler: Get out of town, stay alive, and head west to California to find her mother.
But nothing is easy when you're a girl trained in putting down the restless dead, and a devastating loss on the road to a protected village called Nicodermus has Jane questioning everything she thought she knew about surviving in 1880's America.
What's more, this safe haven is not what it appears - as Jane discovers when she sees familiar faces from Summerland amid this new society. Caught between mysteries and lies, the undead, and her own inner demons, Jane soon finds herself on a dark path of blood and violence that threatens to consume her.
But she won't be in it alone.
Katherine Deveraux never expected to be allied with Jane McKeene. But after the hell she has endured, she knows friends are hard to come by - and that Jane needs her, too, whether Jane wants to admit it or not.
Watching Jane's back, however, is more than she bargained for, and when they both reach a breaking point, it's up to Katherine to keep hope alive - even as she begins to fear that there is no happily-ever-after for girls like her.
[One bisexual and one asexual main character]
In Upright Women Wanted, award-winning author Sarah Gailey reinvents the pulp Western with an explicitly antifascist, near-future story of queer identity.
"That girl's got more wrong notions than a barn owl's got mean looks."
Esther is a stowaway. She's hidden herself away in the Librarian's book wagon in an attempt to escape the marriage her father has arranged for her-a marriage to the man who was previously engaged to her best friend. Her best friend who she was in love with. Her best friend who was just executed for possession of resistance propaganda.
The future American Southwest is full of bandits, fascists, and queer librarian spies on horseback trying to do the right thing.
[queer characters, non-binary characters, f/nb romance, f/f romance]
Take one ambitious politician and one determined magician with wildly different aims for their next meeting.
Add a secret betrothal, a family scandal, and a heaping of dangerous fey magic in an enchanted wood...and watch the sparks fly!
For just one moonlit, memorable night, Thornfell College of Magic has flung open its doors, inviting guests from around the nation to an outdoor ball intended to introduce the first-ever class of women magicians to society...but one magician and one invited guest have far more pressing goals of their own for the night.
Quietly brilliant Juliana Banks is determined to win back the affections of her secret fiancée, rising politician Caroline Fennell, who has become inexplicably distant. If Juliana needs to use magic to get her stubborn fiancée to pay her attention...well, then, as the top student in her class, she is more than ready to take on that challenge!
Unbeknownst to Juliana, though, Caroline plans to nobly sacrifice their betrothal for Juliana's own sake - and no one has ever accused iron-willed Caroline Fennell of being easy to deter from any goal.
Their path to mutual happiness may seem tangled beyond repair...but when they enter the fey-ruled woods that border Thornfell College, these two determined women will find all of their plans upended in a night of unexpected and magical possibilities.
[f/f romance]
A fiercely empathetic group portrait of the marginalized and outcast in moments of crisis, from one of the most galvanizing voices in American fiction.
Lidia Yuknavitch is a writer of rare insight into the jagged boundaries between pain and survival. Her characters are scarred by the unchecked hungers of others and themselves, yet determined to find salvation within lives that can feel beyond their control. In novels such as The Small Backs of Children and The Book of Joan, she has captivated readers with stories of visceral power. Now, in Verge, she offers a shard-sharp mosaic portrait of human resilience on the margins.
The landscape of Verge is peopled with characters who are innocent and imperfect, wise and endangered: an eight-year-old black-market medical courier, a restless lover haunted by memories of his mother, a teenage girl gazing out her attic window at a nearby prison, all of them wounded but grasping toward transcendence. Clear-eyed yet inspiring, Verge challenges us with moments of uncomfortable truth, even as it urges us to place our faith not in the flimsy guardrails of society but in the memories held-and told-by our own individual bodies.
[many queer characters, f/f romance]
My Autobiography of Carson McCullers is an audacious new form of nonfiction that remakes the boundaries between criticism, biography, and autobiography in search of two identities.
While working as an intern in the archives at the Harry Ransom Center, Jenn Shapland encounters the love letters of Carson and a woman named Annemarie―letters are that are tender, intimate, and unabashed in their feelings. Shapland recognizes herself in the letters' language―but does not see Carson as history has portrayed her.
And so, Shapland is compelled to undertake a recovery of the full narrative and language of Carson's life: She wades through the therapy transcripts; she stays at Carson's childhood home, where she lounges in her bathtub and eats delivery pizza; she relives Carson's days at her beloved Yaddo. As Shapland reckons with the expanding and collapsing distance between her and Carson, she see the way Carson's story has become a way to articulate something about herself. The results articulate something entirely new not only about this one remarkable, walleyed life, but about the way we tell queer love stories.In genre-defying vignettes, Jenn Shapland interweaves her own story with Carson McCullers's to create a vital new portrait of one of America's most beloved writers, and shows us how the writers we love and the stories we tell about ourselves make us who we are.
In genre-defying vignettes, Jenn Shapland interweaves her own story with Carson McCullers's to create a vital new portrait of one of America's most beloved writers, and shows us how the writers we love and the stories we tell about ourselves make us who we are.
[lesbian]
Check out more LGBTQ new releases at:
If you like what we do here at the Lesbrary, consider supporting the Lesbrary on Patreon! At $2 or more a month, you're entered to win a queer women book every month! You can also check out the Lesbrary Amazon page for lists of all the sapphic books I recommend.