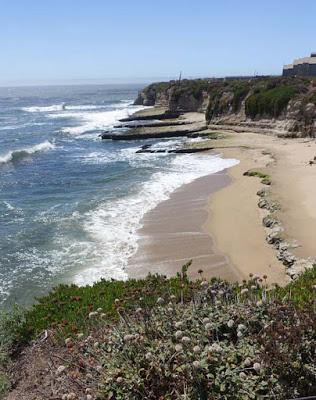 View from the cliff, Santa Cruz, California
Two weeks ago I drove from Oakland to Santa Cruz, on the California coast, for lunch and a visit with a friend who had recently moved there. It was a beautiful day–clear skies and a warm breeze off the ocean. We enjoyed a casual and delicious lunch at Kelly's, a combination bakery and café on Swift Street, eating outdoors under umbrellas. Then, to work off our calories, we took a walk on the path that follows the cliff top at the
University of Santa Cruz Marine Science campus
.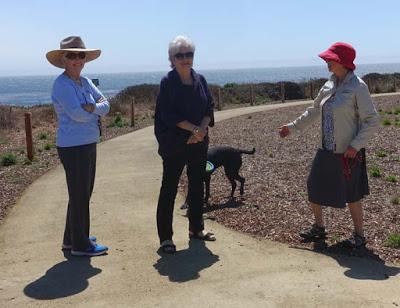 The level dirt path, open to the public, goes around the edge of the campus and through the open areas around the various buildings.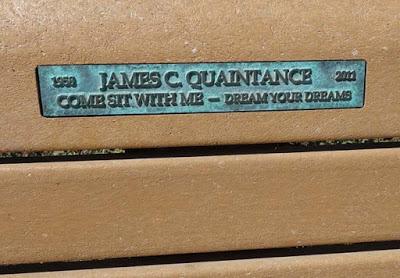 Wooden benches are conveniently positioned along the way where one can rest and enjoy the view. Each bench bears a memorial plaque honoring the person it is named after and with a short message.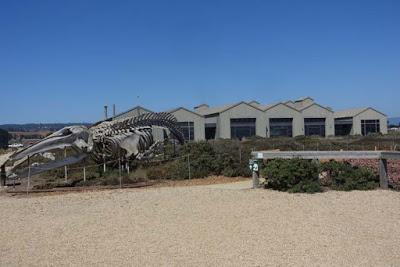 As the path turns inland toward the classroom buildings, the skeleton of a gray whale is mounted at the corner, with a sign describing the migrating and feeding habits of these huge cetaceans that pass by each winter on their way to and from their breeding grounds in Baja California and back to their summer home in Alaska. I'm told that in the winter you can see the whales in the ocean as you walk along the path.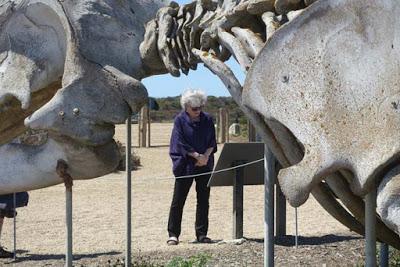 It is only when one stands next to the giant bones that the extreme size of these mammals is appreciated.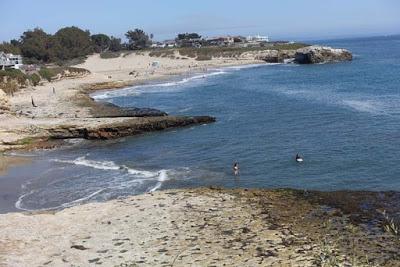 As we walked along the path gulls swooped overhead and platoons of pelicans sped by, searching for fish in the water below. To the south we could see people playing in the water at Natural Bridges State Park. The tide was going out, leaving small pools in the rock shelf, filled with anemones and other sea life. 
After our walk it was time for the two hour drive back to Oakland. We had certainly enjoyed a full and refreshing day.
As Henry David Thoreau once wrote:
We can never have enough of nature. We must be refreshed
by the sight of inexhaustible vigor, vast and titanic features,
the sea-coast with its wrecks, the wilderness with its living
and its decaying trees, the thunder-cloud, and the rain.
Note: We did not have time to visit  the Seymour Marine Center located on the large campus. It features a fascinating aquarium, shark pool, and touch pool filled with starfish, sea urchins, hermit crabs, and sea anemones. The Exhibit Hall educates visitors about oceanic research as well as topics such as elephant seal behavior and the sea otters' ecosystem.
We'll have to put the Marine Center on our list of things to do the next time we go to Santa Cruz.