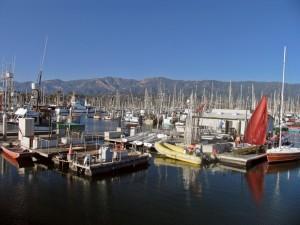 Beautifully clear day in Santa Barbara – from the marina
Wrapped between the mountains and the sea, with picturesque palm trees for its ribbons, Santa Barbara seems like a gift to the senses. A traveler's eye is greeted at every glance with floral cascades, a traveler's nose with scents of ocean and orchid, a traveler's skin with balmy breezes. Santa Barbara's got its own state of mind, too, a kind of flip-flops meets convertible-Jag sensibility, with less tension between the two than you might guess.
Its physical graces notwithstanding, visitors can do a lot more than sigh over the sights; You can get wined and dined, art-drenched and wave-drenched in fine fashion, as well as gawk at exotic animals that are close enough to gawk back and you. It's also a supremely nice place for a stroll, with an accessible downtown, a nearby wharf/beachside zone with good eats and diverse shops and exhibits, and beautiful Spanish Mission-style architecture all around. (The lovely in-town Santa Barbara Mission provides a sterling example.) Oh yeah—there's olive-picking in nearby Ojai too.
Why now?
Being in sunny SoCal, Santa Barbara's always got a good thing going on. But summer in Santa Barbara, where it seems like every yard has birds of paradise parading their floral feathers, where the ocean sparkles seem to have been polished by fussy jewelers and where the so-close-it-looks-like-they-were-hand-placed Santa Ynez Mountains still retain their soothing bands of green amidst the granite—summer in Santa Barbara is spectacular.
The backstory
The good burghers and civil servants of Santa Barbara have done something over the years that has retained the town's civility: various injunctions and ordinances over time have combined to make sure that urban sprawl has been resolutely contained. Developers may argue that there's a chokehold, and environmentalists might carp that there's a mall too many, but in the main, it's one of the most picturesque cities in California, and will stay that way.
Checking in
Spanish Garden Inn is a lovely, small (23 rooms) boutique hotel that gets the details right: French coffee press in the rooms, along with Bose iPod dock, private balcony or garden, wireless Net access, big tubs, a fitness room, and a very nice complimentary breakfast. Other plusses are its pleasant courtyard with fountain and flowers and the evening wine bar. Not inexpensive, but it's quite nice.
Spend your day
Santa Barbara's zoo is like an encapsulation of the city's physical charms—but with wild animals added! The zoo is in a striking garden-like setting, just off the ocean. It's not inconceivable that locals would come to the zoo just for picnics, because of its expansive grassy areas and beautiful flora—and many of the animal habitats are lovely as well. Strolling through these enclaves, I saw Asian elephants, lowland gorillas, Chilean flamingoes, a snow leopard, lions and a host of striking birds, big and small. Unfortunately, Gemina the crooked-necked giraffe—long beloved by locals—died in 2008, but many of her giraffely fellows, albeit with straight necks, are there in her stead, including new additions, two young Masai giraffes.
Blue Crowned Pigeon
Chilean Flamingoes
East African Crowned Cranes
Feeding hungry Giraffe
If the sands cry out your name, visitors and locals alike have some big, wide beaches in SB, such as East Beach and West Beach, which flank Stearns Wharf, and popular Butterfly, also nearby. But you should consider Hendry's (also called Arroyo Burro Beach). Lots of sand, space, and it's dog-friendly for pleasant pooches. Nearby high cliffs of the Douglas Family Preserve make for scenic views from above and below. There's a fairly new restaurant right off the water called the Boat House that has, naturally, a stunning ocean view, good margaritas and Bloody Marys and decent seafood. The beach's small parking lot is free.
Down by the SB waterfront, there's a great, free Sunday scene: the Arts and Crafts show has hundreds of local artists displaying their arts, crafts, photography and paintings along the beach from Stearns Wharf on down. The quality of the merchandise is high, the atmosphere is casual and fun, and the people-watching is rewarding. And even if it's not a Sunday, the waterfront area is a winner: choose from a trolley ride, surrey rentals, the Ty Warner Sea Center, a skateboard park, kayak and bicycle rentals, and some good restaurants as well. And, for a constant backdrop, don't forget that simple—if you call spectacular "simple"—classic appeal of mountain and sea.
Dining
There are a lot of plates to purr over at The Hungry Cat, a small, hip joint specializing in fresh seafood (lots of oysters and clam options) and fun drink specials. I delighted in dandy fresh grapefruit margaritas and a nice yellowtail tuna dish. The service was friendly and the prices weren't fishy, though it ain't cheap.
Don't miss
Wine tasting in the "Funk Zone," where you don't have to get all "Sideways" on yourself and have to journey through the Santa Ynez Valley to taste fine wines of the Santa Barbara area. The Santa Barbara Urban wine trail invites you to sip your way through 11 wineries at tasting rooms downtown and close to the beach. Walking the wine-trail map is a distinctly clear-headed (and in Santa Barbara, a pleasant) option.
Don't bother
If you've the inkling to attend the annual Summer Solstice Celebration in Santa Barbara this June, inkle again: sure, it's a whoopin' good time, where the entertainments are many and free, there's good food and no shortage of booze (and some patrons are distinctly less short than others), but it's when Santa Barbara is overrun with traffic, tourists and various vexations. Have a beer on your patio at home instead.
Word to the wise
There are few good reasons to leave Santa Barbara, but one is to skip over to Ojai. It's a nice drive to a picturesque little town teaming with art galleries, spas, that olive-oil company and down-home charm. Get there by heading east of Eden, er, Santa Barbara, taking Highway 101 to Highway 150, less than an hour's cruise.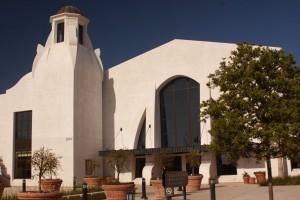 Santa Barbara's Municipal Airport
If You Go
Getting There
From Los Angeles, head north on Highway 101 for about 95 miles.
From San Francisco, head south on Highway 101 for about 335 miles to downtown Santa Barbara.
Santa Barbara's Municipal airport is located just north of town and services a number of mostly west coast cities as well as Denver and Phoenix. Visit: http://www.flysba.com
 
 
Where to Stay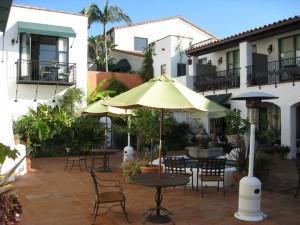 Spanish Garden Inn, courtyard
Spanish Garden Inn
www.spanishgardeninn.com
Motel 6 Santa Barbara: (805) 564-1392
Small rooms, but clean and a block from the beach. This is the first and original Motel 6 ever opened – in 1962. From $95. Address: 443 Corona del Mar. http://www.motel6.com/reservations/motel_detail.aspx?num=1
Where to Eat
The Hungry Cat: (805) 884-4701, http://www.thehungrycat.com/santa-barbara-ca/
Dinner for two with wine, $100–$125.
La Super Rica Taqueria: 622 N Milpas St., (805) 963-4940
Great inexpensive Mexican food, at a place frequented by culinary rock stars (in her time, Julia Child), actual rock stars and locals alike. La Super Rica is funky, but the lines out the door tell you the food is anything but. Fresh tortillas are produced with a religious fervor.
Dinner for two with beer/wine, $30 or less; no cocktails.
MORE INFORMATION
Santa Barbara Zoo: (805) 962-5339, http://www.santabarbarazoo.org/
Admission: Adults 13-59: $11,
 Children 2-12/Seniors 60+: $8
, 
Parking: $4
Santa Barbara Arts and Crafts Show: http://www.sbaacs.com/id3.htm
Hendry's Beach: http://www.santabarbara.com/activities/beaches/arroyoburro/
Santa Barbara Urban Wine Trail: http://www.urbanwinetrailsb.com/