Sandy Sheehan, musician, music shop owner, host of a weekly old-time music jam, radio producer/host and 2009 recipient of  the Boston  Bluegrass 
Heritage Award 
is in poor health and is closing his Central Square institution,
Sandy's Music
.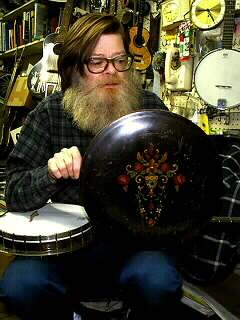 Jon Gersh posted the following to the
Boston Bluegrass Union's
listserve this morning
Friends, it is with some sadness that I report the closing of an institution, Sandy's Music in Cambridge. Sandy has been laid up, and the store was losing money, I guess there wasn't much choice. Please come support Sandy at a benefit show at Johnny D's on Tuesday Jan. 22nd. We're hopeful that Sandy himself can be there. Please consider buying $10 tickets in advance (it's a benefit) and making dinner reservations so you can be sure to be able to sit:

http://www.ticketweb.com/t3/sale/SaleEventDetail?dispatch=loadSelectionData&eventId=3299534&pl=jds

The show has turned into a powerhouse showcase of local talent, including the Dreaded Banjo Orchestra, which you are most welcome to join. Thank you everyone for supporting Sandy's Music through the years, this is truly the end of an era. Please support Sandy now, and come out to Johnny D's. Thanks, Jon G.  for more information email me here, or at 

[email protected]




The flyer for the show is here:  

http://www.planetbanjo.com/SandyOTFlyerJan2013.jpg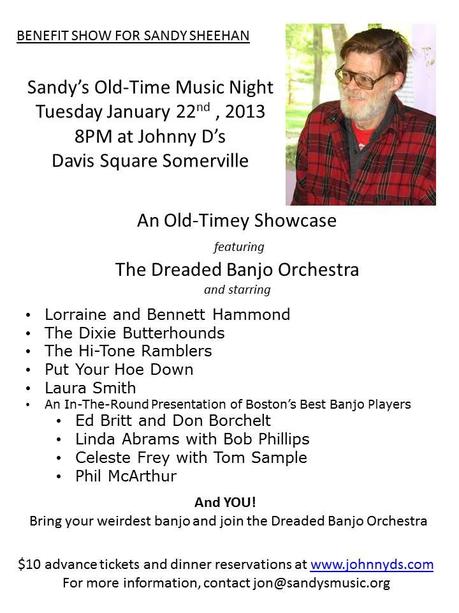 In 2009, Sandy, Al Hawkes and the original members of the Joe Val Bluegrass Boys were honored by the Boston Bluegrass Union's annual heritage award.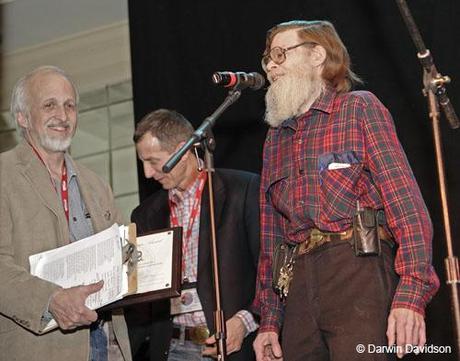 Rounder Records founder Ken Irwin and BBU President Gerry Katz presenting the BBU's 2009 Heritage Award to Sandy Sheehanphoto copyright Darwin Davidson
Sandy Sheehan:
 Since 1970, Sandy's Music and its proprietor Sandy Sheehan have been essential lynchpins in the Boston area's traditional music scene. First captivated by folk, old-time, Celtic, blues, and bluegrass music in the 1960s, Sheehan established Sandy's as a one-stop shop where one could peruse (and pick) a diverse range of stringed instruments, browse through new and old traditional music LPs and CDs, have instrument repairs done, take a music lesson, and get advice from the laconic, chain-smoking, banjo-picking owner. Sandy's quickly became a hub for the traditional music community, with Sheehan hosting (and continuing to host) weekly Monday-night jams at the store and occasional old-time nights at Johnny D.'s. Since 1986, Sheehan has also hosted the popular Traditional Folk program on WUMB.
Read the BBU's 2009 press release here.
Read notloB Music's coverage 
here.
Sandy's
bio
from :Boston's NPR music station", WUMB.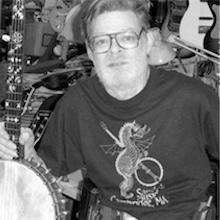 ANNOUNCER:
Sandy Sheehan

SHOWS:
Traditional Folk

Sunday 9:00 pm
Contact
Sandy Sheehan started doing the 
Traditional Folk
 show in the fall of 1986. One of his goals is to expose listeners to artists and music they wouldn't hear on other programs.The music on the program usually falls into the following genres: old-time, bluegrass, Celtic, blues, Cajun, cowboy, and anything else that is interesting and traditional. The program usually consists of a set of three or four songs or tunes of one kind of music, and then changes to a different kind.A lot of good traditional LPs are being reissued on CD. But Sandy still plays LPs and cassettes as well since some of the greats were never reissued. A lot of good traditional music is being done by contemporary artists as well. Sandy draws on all of these resources for his show.A traditionally-oriented community calendar is also heard on 
Traditional Folk
.Folk music has interested Sandy since the early '60s. At that time he met some musicians who played traditional music including old-time, Celtic, and bluegrass. Other musicians later introduced him to blues and Cajun music.Sandy learned to play a little banjo, but was always more of a listener. He spent the '60s getting together with friends to play old-time music and go to contra dances around Boston and New Hampshire. He also attended many area festivals and concerts.In 1970 Sandy started Sandy's Music to buy, sell, and repair instruments and sell recordings. The store is still on Massachusetts Ave. in Cambridge and is one of the area's folk institutions.Sandy often packs up the store stock and sets up a temporary shop at a some of the summer festivals and concerts throughout the year. Sandy also organize old-time music events. Every Monday night there's a jam session at Sandy's Music, and several times a year Sandy invites musician friends to Johnny D's in Davis Square, Somerville, for an old-time music night.