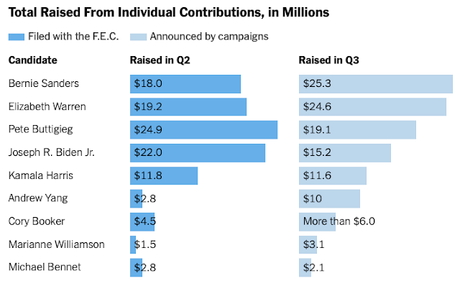 The leading candidates for the Democratic presidential nomination have announced their third quarter fundraising.
Bernie Sanders led all the others in the amount he raised. He received $25.3 million, much better than the fourth place he finished at in the 2nd quarter. But Warren was not far behind -- moving from a third place finish in the 2nd quarter to second with $24.6 million.
Biden and Buttigieg did just the opposite. Buttigieg moved from first in the second quarter to third this time with $19.1 million. Biden went from second to fourth with $15.2 million.
Kamala Harris repeated her 2nd quarter performance. She got $11.8 million then, and got $11.6 million in the 3rd quarter. Yang finished sixth, raising his 2nd quarter total of $2.8 million to about $10 million in the 3rd quarter. Cory Booker finished a poor seventh with slightly over $6 million.