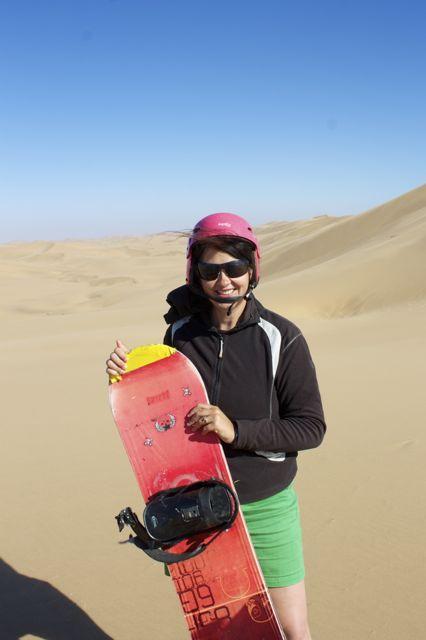 Me still thinking I'd be good at sandboarding – before I actually tried it.
That was me and sandboarding.  Even before I left Germany, I boasted to my husband, J.P.  I'm going to be kick a** at sandboarding in Namibia.  I'll start on a small sand dune, but will quickly work my way up to the really big ones.  Ummm, not trying to be rude, he started….but what makes you think you'll be any good?  I stared at him.  The answer was SO obvious Duh, because I'm good at skiing, I replied shaking my head in disbelief.  He sighed.  I'm really not trying to be a jerk, Laurel, but I don't see how being good at downhill skiing on snow for that matter, has anything to do with how good you'll be at sandboarding.  Clearly he just didn't get it.  I'd show him!!!!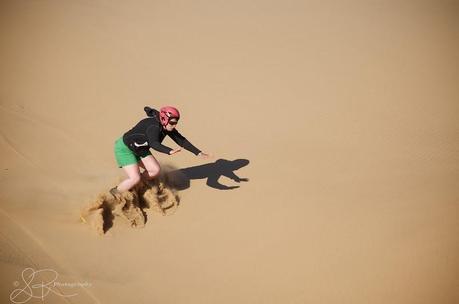 Me getting ready to fall into the Namib Desert, which I would get to know intimately from falling so much.
Except that maybe he did get it. And I didn't show him.  Turns out, I really, really suck at sandboarding.  Now, I know what you're thinking, I'm being too hard on myself, it was my first time, it takes time to get the hang of it.  That all may be true, but given that it was the first time for everyone in our group that did it, I was truly the worst. Even getting up was a struggle.  I wobbled, wobbled some more and then crash – right into the hard packed sand!  Again, and again and again! Unlike snow, sand has no give.  Fall on your tailbone numerous times as I did and it really hurts.  Take a look at the photo below and tell me that I don't suck?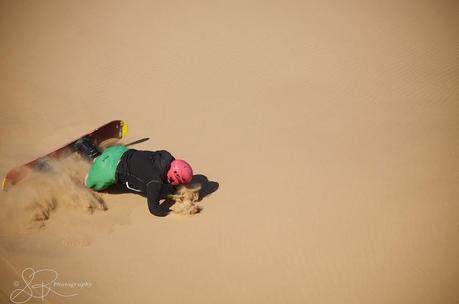 Me doing a faceplant into the Namib Desert. I had to floss the sand out of my teeth afterwards.
Still, I persisted.  I was supposed to be good at this right?  My confidence wavering and my inner dialog no longer SO convinced that skiing and sandboarding were correlated. I tried again, and again, and again! Everyone got down the wee practice hill of maybe 10 meters without falling.  Well everyone but me.
Hmmm, maybe it was the sand dune.  That's right, I must need a bigger sand dune, I am a girl from the Canadian Rockies after all!  So I moved onto a slightly longer dune, even though the instructor nervously said, Ummm, usually people get down the small hill first without falling, before they move onto the bigger one.  Details, details.  This one was only 20 meters high. Surely I could do it?  Wobble, wobble, crash.  Wobble, wobble, crash!  Spit, spit, spit.  I hadn't considered the fact that sand doesn't melt in your mouth like snow does when you crash.  More spitting. OK, maybe it wasn't the size of the dune after all.
Maybe, just maybe it was time to accept the fact – I really suck at sandboarding!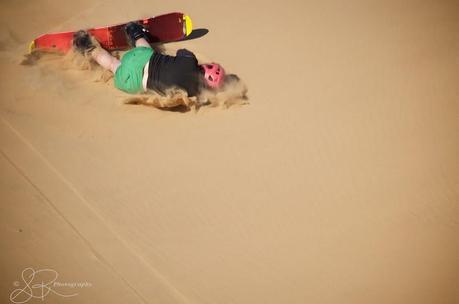 When you fall, you don't just fall, you roll. Sand gets everywhere!
Ego crushed, tailbone throbbing, I didn't even have the heart to go down the 100m dune the easy way – sledding, something that takes almost no skill!  I had tried it on a smaller dune in between sandboarding and while I used to feel the need for speed, I kept thinking Whoa!  I'm going way too fast!  And yeah, for the second time in less than 10 minutes, I was reminded that sand doesn't melt in your mouth, like snow does.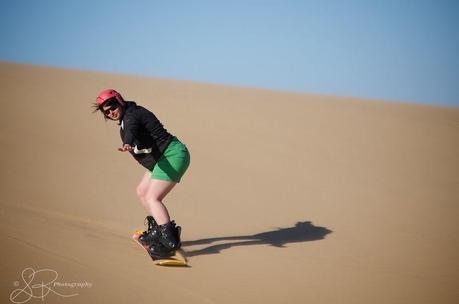 A rare glimpse of what I look like actually standing up on a sandboard.
I wish I could say that I enjoyed sandboarding, but I didn't.  Had I been good at it, I'm positive I would have loved it! Em, one of the girls in our group rocked it.  So much so that she boarded all the way down the 100m dune – WITHOUT falling! Needless to say she loved it!  I wanted to hate her, but she was just too damn nice!   But I will admit feeling just a wee bit envious of her innate talent. No one likes sucking at something – especially when it's something you think you'll be good at it.  No need to remind me of my illogical reasoning!
But I got over it…..well mostly.   Instead, I choose to focus on all the experiences that I was grateful for in Namibia – like feeding cheetahs, or being thisclose to a herd of elephants,  stalking lions on a night safari, learning how to survive in the Namibian bush. And after a bit of time, even for sandboarding.  I realized that you don't have to be good at something to appreciate the experience.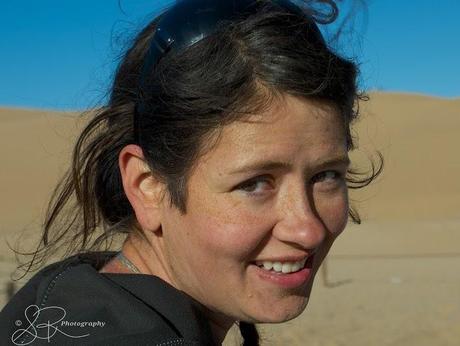 Look close and you'll see I'm covered in sand. Even my eyebrows, which are normally much darker.
It's not everyone that gets to sandboard in the world's oldest desert, and in a desert that's home to some of the highest sand dunes in the world! Yes, it turns out I am grateful – even if my skills leave something to be desired. Besides, I've just found out that the Sandboarding World Championships are held at Monte Kaolino in…. Bavaria, Germany of all places!  Where I happen to live!  Coincidence?  I think not.  Clearly it's a sign of redemption!
What You Need to Know about Sandboarding in Namibia
There are two places you can sandboard, Swakopmund and Walvis Bay.
If it's your first time, you'll definitely want an instructor.
There are numerous operators and equipment rentals in both areas.
Sandboarding can be done year round.
There are no lifts as there are in a ski resort.  You get up the dune, by walking, carrying your board.  You'll get a workout – trust me.
Bring dental floss.  If you do a face plant as I did, you'll need it to get the sand out from between your teeth.
Visit Namibia Tourism for further info.
All photos (except for the top one) by Namibian photographer/Thailand based Lourika Reinders.  Check out her beautiful gallery. 
Thank you to Namibia Tourism for making my experience possible. As always, all opinions expressed are my own.
&locale;&layout;&action;&width;&height;&colorscheme;