The Steins Collect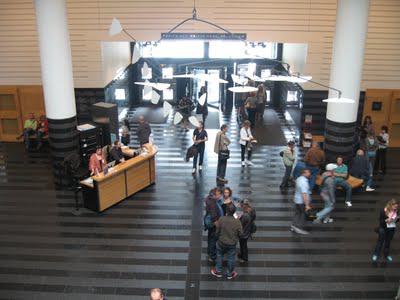 Entrance to SFMOMA San Francisco with Calder Sculpture above
Imagine being a personal friend of Picasso, Matisse, Juan Gris and other avant garde Parisian artists of the early twentieth century AND helping to establish their reputations by buying their art.  That is the story of Gertrude Stein and her family.  The current exhibit at the
San Francisco Museum of Modern Art
,
The Steins Collect
, which I went to see last weekend, is an amazing assembly of much of the art collected by Gertrude Stein, her brothers Leo and Michael, and Michael's wife Sarah.  Together with photos and other artifacts (such as African sculptures that influenced the artists) the exhibit functions as a survey of the birth of modern art and insight into the keen artistic sensibility of the Stein family.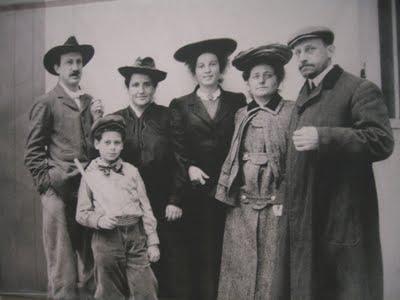 The Steins in the courtyard at 27 rue de Fleurus, Paris, ca. 1905. From left: Leo Stein, Allan Stein, Gertrude Stein, Theresa Ehrman, Sarah Stein, Michael Stein.
Roots in California
One thing I didn't realize about the Stein family was their connection to California and the Bay Area.  As a child, Gertrude and her family lived in Oakland (it's amazing to think they might have been neighbors!)  When she came back as an adult and looked for her childhood home, she couldn't find it, producing one of her most famous out-of-context quotes, "There is no there there", "there" referring to the missing house in Oakland.  Most of Gertrude Stein's adult life was spent in Europe, mainly France but also Italy.  Her apartment in Paris, first shared with her brother Leo and then with Alice Toklas, became a center of Parisian cultural life.  Photos of the apartment walls, stacked high with the paintings they collected, are part of the MOMA museum exhibit, allowing one to match the actual paintings on the museum walls to those in the photographs.
Although I was familiar with many of the paintings in the show, such as Picasso's
Boy Leading a Horse
(from the NY MOMA)  and his famous
Portrait of Gertrude Stein
(which she claimed to have required 80 or 90 sittings) I learned a lot that I didn't know before, or forgotten.  I didn't realize that Sarah and Michael had funded an art school in Paris for Matisse to teach at and that they themselves had ambitions as artists. (Two of their paintings are in the exhibit.)  Much of the Stein collection was dispersed after their deaths.  The current exhibit was assembled from collections all over the world.
Ending Soon
The Steins Collect exhibit ends September 5
th
, so if you want to see it in San Francisco, you must go soon! (It will tour to Paris and New York from there.).  Entry to the show is timed to control crowding and included in the price of museum entry.  We bought our tickets online.  We also got the audio tour. 
Much, Much More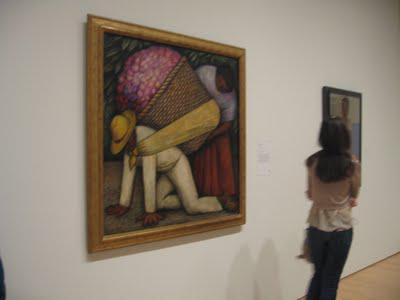 The Flower Carrier, Painting by Diego Rivera
With five floors of art, plus a roof garden, there is plenty to see at SFMOMA and worth a visit at any time.  One of the other current exhibits that we also visited was
Selected Histories: Twentieth-Century Art from the SFMOMA Collection
, highlighting many of the key moments in the history of twentieth century art, including Diego Rivera's painting of a man with a basket of flowers, which always reminds me of practicing the piano because a print of it hung above our piano when I was growing up.  Seeing it in real life was like meeting an old friend. 
Lunch and the Gift Shop
SFMOMA has an excellent café on the first floor, so you can go early, as we did, take a break for lunch, and then see more.  There is also a huge gift shop with many tempting items, including many with a French theme to go with the current show.