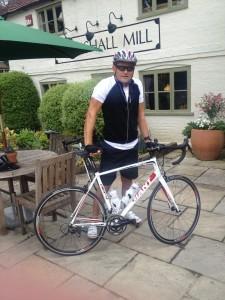 Nick Samuel our Managing Director is taking on a challenge like no other and is riding in the inaugural Ride London-Surrey 100 as part of the 'Help The Hospices' team. Nick who has only ever done the odd day cycling has taken this seriously and went out and bought a road bike in April and has thrown himself into training for his major event.
Nick said "I have never taken on anything like this in my life and I could not turn down the chance to be in the first ever event of this type and apparently the biggest in our Country's history. The training has been so hard and culminated in a 72 mile training cycle on Saturday 20th July – myself and good friend and co rider Rob managed 3 of the 4 horrendous hills that are a part of the course. I am really excited to be riding for such a great cause and this is definitely a one-in-a-lifetime for me. My target is to raise £1,000 for The Hospices. If you would like to donate please feel free to send a check into the office here or visit my page at http://uk.virginmoneygiving.com/NickSamuel If you are in London on Sunday 4th August, please come along and support the event – it promises to be an amazing day!"
Details of the Event:
Celebrating the legacy for cycling created by the London 2012 Olympic and Paralympic Games, Prudential RideLondon-Surrey 100 will start in the new Queen Elizabeth Olympic Park, then follow a 100-mile route on closed roads through the capital and into Surrey's stunning countryside. With leg-testing climbs and a route made famous by the world's best cyclists at the London 2012 Olympics, it will be a truly spectacular event for all involved.
Prudential RideLondon-Surrey 100 will finish on The Mall in central London, shortly before 150 professional cyclists race in the inaugural Prudential RideLondon-Surrey Classic on a similar route.