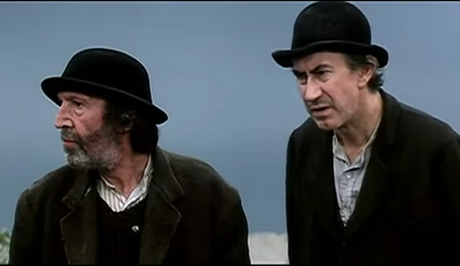 A scene from Waiting for Godot by Samuel Beckett, from Beckett on Film.
The background
Samuel Beckett is best known for his gloomy, pared-down plays such as Waiting for Godot and Endgame; few know that he was also a poet. His Collected Poems, edited by Sean Lawlor and John Pilling, are published now, by Faber and Faber. Critics are in concert, for once: his early poems were over-worked; his later ones show who he really was.
"It was in poetry that he confronted himself most intimately, even if this confrontation was in conflict with his instinct to protect himself by way of ventriloquism, disguise or deviousness." From the preface to Collected Poems.
Despite Beckett's own opinion, they are essential reading
Beckett himself wasn't very enthusiastic about his poems, noted Robert Douglas-Fairhurst in The Telegraph, calling them "worthless", "spittle", and "turds from my Central Lavatory." However, we shouldn't dismiss them – they are "the imaginative heart of his career," allowing him to bring together his "love of language with his equally deep distrust of it." The editors of this volume "have done an excellent job", with "a generous slection of notes." In this way we can "trace the patterns that are worked into Beckett's imaginative DNA." The poems mingle "disgust and delight," and show how much he developed. But he needed the theater to give his voice "real bodies." Even so, they are "essential reading" for anyone "interested in the evolution of his plays."
The collection reveals Beckett the cunning artificer
Little attention, agreed Michael Horovitz in The Times, has been paid to Beckett's poems, yet he produced them throughout his entire career, "from his apprenticeship to James Joyce … until 1989, the year he died." His early poems are very Joycean, with hints of T S Eliot; after Joyce's death, Beckett "gradually exiled his writings from the imposing shadows of this massive statuary to the barest of verbal bones." This collection "reveals in microcosm the cunning artificer of the unique Beckett oeuvre, ever more concerned with paring away illusion, desperate to achieve a music and a clarity."
Beckett's early poems are false; his later ones are true
David Sexton in The London Evening Standard said that Beckett's poetry was "the least rewarding part of his work." Even the editors have admitted that he isn't a great poet. The fact is, "the arcane and overworked poems Beckett wrote and published before the war would have no life now were it not for his later writing." However, the "tiny, simple, inward verses he wrote later" – called "mirlitonnades," the French for a toy trumpet – "are treasurable." Some of them are "perfect Beckett," and his "concentrated versions of aphorisms by Chamfort are works of genius: " 'Better on your arse than on your feet, / Flat on your back than either, dead than the lot.' What better counsel in so few words?" Beckett "falsified himself" with his early poems; when "he abandoned all that, the poetry came true."
Watch an interview with Samuel Beckett below:

Watch Waiting for Godot, Beckett's most famous play: