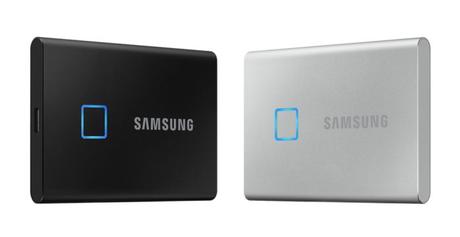 Stepping up its game from the efficient SSD T5, the Korean electronics giant has announced its successor, the portable Samsung SSD T7 Touch at the ongoing CES 2020.
Samsung SSD T7 Touch features
The latest storage drive is capable of double the read and write speeds when compared to its predecessor. It is expected to run at a speed of 1,050 MB/s for read operations, and 1,000 MB/s for write operations. To put things in perspective, the 2017 T5 was capable of processing up to 540 MB/s only. An LED indicator blinks when data is being read from or written to it.
For an additional layer of security, the Samsung SSD Touch also features a fingerprint scanner. It works with AES 256-bit hardware encryption and password protection.
The latest T7 Touch comes in three size variants - 500 GB, 1 TB, and 2 TB. It is packaged in a solid metal casing, and weighs less than 58 g. It is based on USB 3.2 Gen 2 standard. USB Type-C to Type-C and Type-C to Type-A cables are packaged along with it.
Quoting Dr. Mike Mang, VP of Brand Product Biz Team, Memory Business at Samsung Electronics,
"Consumers who are constantly on the go between work, play and passion projects want to be able to securely carry their content with them. Now their data is secure thanks to the fingerprint recognition functionality incorporated into the product, which delivers industry-leading transfer speeds in a compact form factor."
Pricing and availability
The 500 GB variant is priced at $130, 1 TB at $230, and 2 TB option at $400. It is expected to be available in 30 different countries later in January.
India specific pricing is also announced. It will be available next month onwards for ₹11,999 for 500 GB version, ₹18,999 for 1 TB variant, and ₹36,999 for 2 TB.

Ankit writes code for a living. He reviews gadgets and books in his free time, and believes in the magical power of a strong cup of coffee.