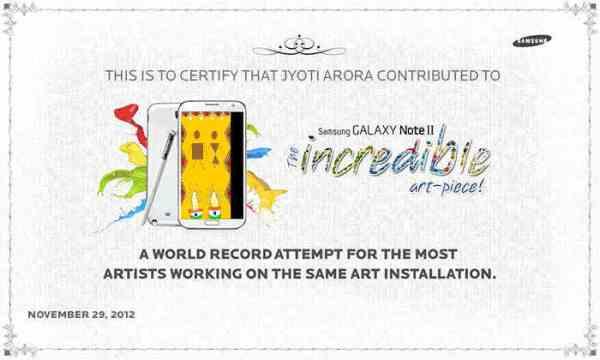 Yes, as you can see in the certificate pasted above, I am attempting for a Guinness World Record! Ok, ok, I'm not trying it alone. I'm just one of the lakhs that are coming together to attempt a Guinness World Record. But small and unworthy though my contribution may be, it still counts!
And you can make your contribution count too in winning this pride for India. Here's how:
Samsung Mobile India is hosting this 'Samsung Galaxy Note II The Incredible Art-piece'  to attempt to win a Guinness World Record for the most artists working on the same art installation. The initiative to create the record breaking digital art piece was recently launched by Samsung Mobile India. The event was kicked off by artist duo Thukral and Tagra, and actress Genelia D'Souza at Select City Walk Mall in New Delhi on 23rd November, 2012.
Samsung Mobile India invites all resident Indians to participate in the initiative and contribute their art pieces to win this world record for India. To take part in this record breaking attempt, just click on the picture below and visit the app: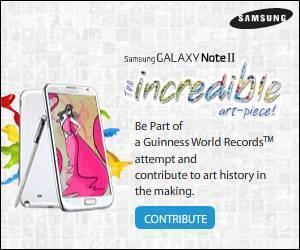 You can also take part in the record breaking attempt in the following ways:
1. Create and submit your art on Facebook at: The Incredible Art Piece
2. Visit any of the Samsung Digital Plazas, Samsung Smartphone Cafe's and Samsung Experience Zones. Here you can use a Samsung Galaxy Note II to create your digital art.
4. If you already have Samsung Galaxy Note II, you can create your art piece on the S Note on your phone and submit your contribution at samsung.com
5. If you don't feel comfortable creating art using apps or phones, you can create them offline as well. And once your painting is ready, just scan it and mail it to Samsung. Visit http://www.samsung.com/in/incredibleart/ to email your art piece.
I made my contribution via the Facebook app. Using that app was so much fun that after I had submitted one painting, I at once started up another. Here's the certificate showing this second painting. Of course this second entry won't be counted for the World Record. This is because although multiple entries are allowed, only one entry per person /unique email ID will be taken into account for the record.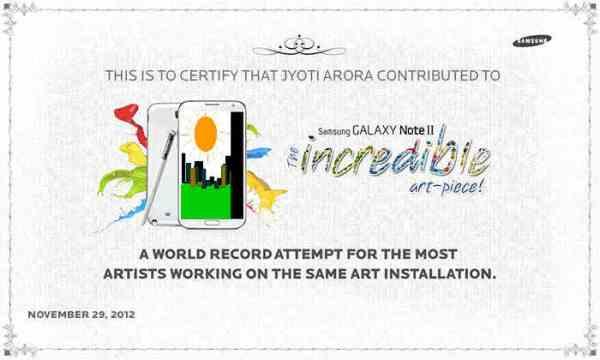 The current world record for most artists working on the same art installation is held by Great Britain. Their art installation includes contributions by 201,958 individuals. It was established in April 2012 when the self portraits by over 200,000 children from across the UK were projected onto Buckingham Palace as part of Children & the Arts' self portraiture project.
We need to go beyond 201,958 contributors. And given the ever expanding population we have, it would be a pity if we fail in this. However, chances are bright that we won't. Samsung claims to have already registered more than 50,000 artists, more are joining every moment.
And I, as a Samsung Mobiler,  invite you to join the initiative too. Make your contribution, become a world record holder. Just click on the picture below and spread out the colours of your imagination.

***
Jyoti Arora
Author of Dream's Sake, Samsung Mobiler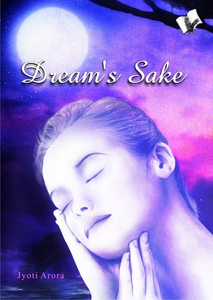 DREAM'S SAKE









http://bs.serving-sys.com/BurstingPipe/adServer.bs?cn=tf&c=20&mc=click&pli=5847203&PluID=0&ord=[timestamp