Samsung has captivated the world with it's release of the Galaxy SIII and it's about to blow you away with its newest launch, the Galaxy Note 10.1 Tablet, which contains several of the features already available on the Galaxy SIII (Smart Stay, All Share Play , Share Shot) but offers so much more. Combining content consuption and content creation, the Samsung Galaxy Note 10.1 will redefine mobile computing. Launching today in the US, the Galaxy Note 10.1 has already sold 10 million units worldwide.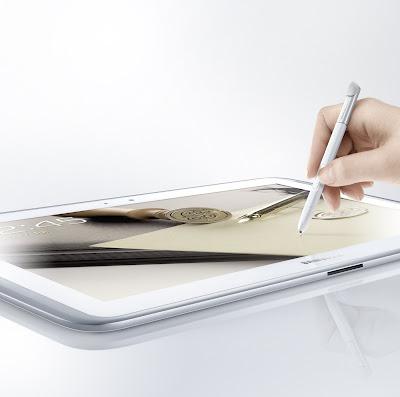 What are some of the amazing features?
The S Pen allows for precise handwriting and drawing with over 1000 levels of pressure sensitivity. It looks and feels like a real pen and you don't have to worry about accidental smudges. It also features handwriting to text conversion, formula match, shape match and knowledge search - all available with S Note.
Truly multitask with the Galaxy Note 10.1's side-by-side Multi-screen option. Open two apps at once on the same screen. Look up your favorite actor while you watch them in a movie, cut and paste easily, dragging content from one window to another without toggling back and forth between two windows.
Video Pop-up Play - watch your favorite videos/movies anywhere on the device while performing other tasks. You don't have to stop to answer emails, surf the web, or get work done.
Adobe Photoshop Touch - Edit photos like never before. Create fluid, natural strokes when you use the S Pen with Adobe Photoshop Touch. Changes in pressure make lines lighter, thinner, thicker, etc allowing you to design beautiful illustrations with various brush weights and sizes. You can even sync with Adobe Creative Cloud to move whatever image you're working on to your home computer to continue editing there.
Thanks to e-learning pioneer, Kno, students have access to 150,000 e-textbooks, allowing them the ability to highlight and write directly on them and leave their backpacks at home.
Smart Remote - the Samsung Galaxy Note 10.1 can also be used as a universal remote for your TV.
See below for Designer Zac Posen discussing how he uses the Galaxy Note 10.1 in his daily creative life at the launch event with MC, Liz McGraw
Designer Zac Posen Discusses Samsung Galaxy Note 10.1 - Glasgow Skinner
from
Glasgow Skinner
on
Vimeo
.
Designer Zac Posen discusses how he utilizes the new Samsung Galaxy Note 10.1 as a designer
Performance features include: 1.4 GHZ Quad Core, 2 GB Ram, Ice Cream Sandwich, Galaxy SIII features (Smart Stay, All Share Play, Share Shot), Dual Front Speakers, Sound Alive Technology, with Jellybean upgrade coming soon. As stated above, the Samsung Galaxy Note 10.1 is available in stores today (though the Union Square Best Buy had it available yesterday), check out Best Buy, Amazon.com, CDW, Tiger Direct, etc for purchase. The Samsung Galaxy Note 10.1 is available in White and Deep Grey. The 16GB/Wifi retails for $499.00 while the 32GB/Wifi goes for $549.00.
Check out some photos from the launch event below: