I just found out that Samsung is going to be releasing a new tablet that is designed jut for kids.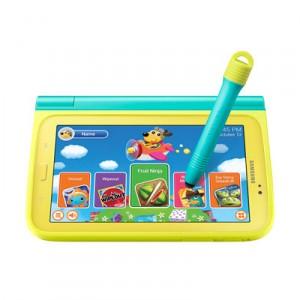 This tablet is just so cute, and you know your kids are swiping yours to play with. So why not just get them their own and they you don't have to share yours.
I like this tablet for kids because while it is geared towards kids the tablet is actually something that adults could use.
The tablet is packed with free pre-loaded content and entertainment specifically for kids, including game applications. The Galaxy Tab 3 Kids lets users browse apps in the Samsung Apps store, with an added level of protection through the Applications Manager.  The Applications Manager allows parents to review and manage the apps their kids can access, giving full control over what apps are purchased and explored. Kids can also discover and request new content by creating a wish list within the new Kids Store.  Parents can then review and purchase the apps they think are appropriate for their child.
The tablet comes with this content and features include:
 ·  Special Kid's Interface:  Easily access kid-specific content through the easy to navigate user interface, including kid-friendly apps and games.
·  Kid-Friendly Games: Toca Train, Wipeout, Fruit Ninja, Disney's Toy Story: Smash It! and Where's My Perry? and more.
·  Educational Apps: Learn ABCs and 123s with educational apps including I Learn With Ocean, Dolphin Reader, Inventions 2 and Kids Planet Discovery
·  Built-In Camera: Capture moments or create movies with the 3-megapixel rear-facing camera and 1.3-megapixel front-facing camera.  In Kids mode, the camera features fun and interactive settings that let kids add stickers or costumes to photos.
·  Parental Controls: Manage a child's tablet experience, including what content kids can access, as well as when and how long they use the tablet at one time.  In addition, you can control the transition between Standard mode and Kids mode with PIN-based access.
·  Built-For-Kids Case: Protect the lightweight, portable tablet from bumps and bruises with the colorful, easy-to-hold case available in orange.
The Galaxy Tab 3 Kids will be available for pre-order beginning Nov. 1 and in stores Nov. 10 for $229.99 at Samsung.com, Amazon, Best Buy, Fry's, Office Depot, Sam's Club, Tiger Direct and Toys "R" Us. In addition, a Galaxy Tab 3 Kids hard case bundle will be offered starting at $249.99.
  <><><""""><><""""><><""""><><><""""""><><><><""""><>0  Name: Email: We respect your email privacyEmail Marketing by AWeber 

Signing you up!
Never Miss out on a post again!!!


Sign Me Up!


We hate spam just as much as you

Signing you up!
Never Miss out on a post again!!!

Sign Up Via Facebook!


We hate spam just as much as you

Signing you up!
Never Miss out on a post again!!!

Click Here for One Click Sign Up!



We hate spam just as much as you