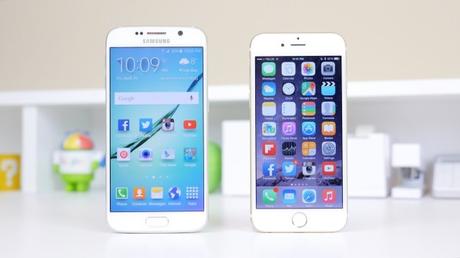 Samsung has finally brought the design change that all fans were waiting for. The most popular flagship has a more luxurious aspect, because it ditched the cheap looking polycarbonate shell, replacing it with a glossy glass back (Corning Gorilla Glass 4). Now, Samsung is finally at the same level as Apple in terms of build quality, but is the Galaxy S6 better than the iPhone 6, on the inside?
iPhone 6
The smartphone was released last year, being an improvement over the previous iPhone 5S, because of its larger screen, which measures 4.7-inch instead of 4-inch. Also, Apple worked on its design, making the edges curvier, for a better grip of the phone, and the wide bands at the top and bottom of the back have been replaced with two thin lines which are needed to hide the radio antennas.
The advantages of the iPhone 6 are - its thickness of 6.9mm, which makes it one of the first smartphones with a very slim body; also, the 8MP rear camera can take better pictures than most of the new smartphones, being a fine substitute for an average DSLR camera; the fingerprint scanner saves you from typing in your passcode, which can be quite in handy if you forget what code you've chosen; the iPhone 6 receives all iOS updates that Apple is releasing, so now it runs on iOS 9.2.
The disadvantages of the iPhone 6 - the small battery, which supports only 14 hours of talk time on 3G and 50 hours of music play; the processor is backed by 1GB of RAM, which is the limit for a decent performance.
Samsung Galaxy S6
The smartphone came in April 2015, surprising the fans with its glass and metal design. Samsung has made serious efforts to build a device that would be appreciated not only for its internal specs, but for its appearance as well.
The advantages of the Galaxy S6 - its Exynos 7420 octa core processor built using a 14 nm FinFET manufacturing process supports 3GB of RAM, and the performance of the device is flawless. The 16MP rear camera is definitely better than iPhone 6's camera and the battery gives 17 hours of talk time on 3G, but unfortunately, Samsung has decided to make it irreplaceable.
The disadvantages of the Galaxy S6 - the new model is no longer water and dust resistant and after a while, the back gets scratched and looks terrible; also, the glass back is very vulnerable to cracks, so make sure you won't drop it to the ground.