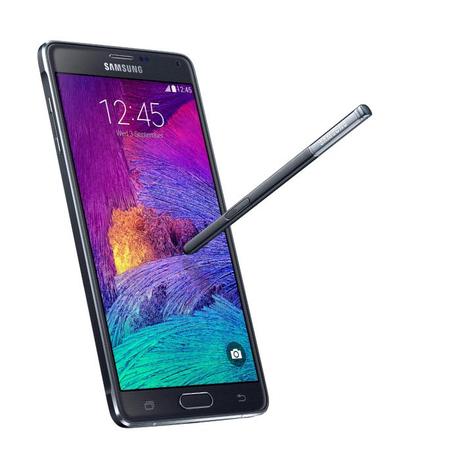 If you are a regular reader of this blog, you would sure have noticed a fall in activity. That's not because the tech scene in India has been less active lately. Indian tech scene has actually been buzzing with lots of interesting launches in the festive season.
Unfortunately, I was forced to miss most of that due to illness. But now, I'm trying to get back to my old routine and taking a look at all the interesting gadgets that were launched recently. One of the most interesting, and the most awaited, is undoubtedly Samsung Galaxy Note 4. Yes, the much awaited Note 4 is now available in India and comes loaded with all the goodness one has come to expect from the Note series of phablet devices.
I very much regret missing out on the opportunity of personally checking it out. But as per the information I got, Note 4 looks to be a really impressive device with some brilliant and intuitive features.
In terms of looks, Note 4 has a metal frame with a fluid curvature. The front is 2.5D glass screen. The back has a soft-textured cover ensuring a comfortable grip and premium feel. The phablet device is available in "Charcoal Black," "Frost White," "Bronze Gold," and "Blossom Pink" colors in India.
Note 4 boasts of being equipped with 5.7-inch Quad HD (2560×1440) Super AMOLED display. This ensures a clearer and more vivid images with better contrast and viewing angles. Also, the response time of Note 4's touch screen is said to be as fast as a millionth of a second. That really makes my hands itch to try it out!​
But anyway, Note 4 also comes loaded with advanced multi-tasking capabilities. Through its Multi Window feature, users can't just use different apps simultaneously, but they now also have the option to choose how to view those apps. That is, they can access the apps with full, split or pop-up screens, as per their convenience. And changing the position of those apps requires just one finger swipe.
It is no news that the cameras of our phones are getting better and better. Note 4 too does not disappoint in terms of camera features. It is equipped with a 16 MP rear camera and a 3.7 MP front camera. The camera features include Smart Optical Image Stabilizer (OIS) that ensures better picture even while the camera is shaking. Other useful camera features are Selective Focus, Rear-cam Selfie, Beauty Face, Virtual Tour Shot, Shot & More etc. The front camera has an f1.9 aperture which offers a default 90 degree shooting. The front camera also has a Wide Selfie feature which can shoot pictures covering  up to 120 degrees. Also, the Heart Rate Monitor at the back of the phablet can be used to click a selfie by just tapping on it.
The S Pen of Note 4 is also more advanced and offers better grip and better writing and drawing experience. The S Pen features include Air Command, Action Memo, Smart Select, Image Clip and Screen Write. All these features combine to ensure a speedier consumption, collection and creation of content.
​If I look at my own smartphone usage, one of my most used apps is a note making app. Everything I want to remember and fear of forgetting, I note it down on my smartphone, often setting them up with reminders. I'm sure that is also the case with many other users of smartphones. No wonder then that almost all smartphones now come equipped with some note making apps. Note 4 comes equipped with several features that can enable the users to jot down or record and save quick notes and memos. This includes the Photo Note feature that can covert a picture into editable format in the S-Note. Note 4 also has a Voice Memo app for quick recordings of memos.
To ensure better battery experience, Note 4 is equipped with Adaptive Fast Charging which can charge Note 4 from 0% to 50% in only 33 minutes. This is said to be 44% faster than the usual charging speed. Note 4 also has the useful Ultra Power Charging Mode so the users can continue to use the essential services of the phone for longer when the battery is running low. ​
Other useful features of Note 4 include the availability of multiple microphones, an improved speaker phone that provides better noise cancellation, a voice recording with eight direction voice tagging and a selective playback capability.
Note 4 also has an enhanced Fingerprint Scanner and world's first UV sensor in a smartphone.
Samsung Galaxy Note 4 comes pre-loaded with 14 regional Indian languages like Hindi, Punjabi, Bengali, Gujarati, Urdu, Tamil.
Galaxy Note 4 is priced at INR. 58,300 in India.
Specifications and Price of Note 4 in India: