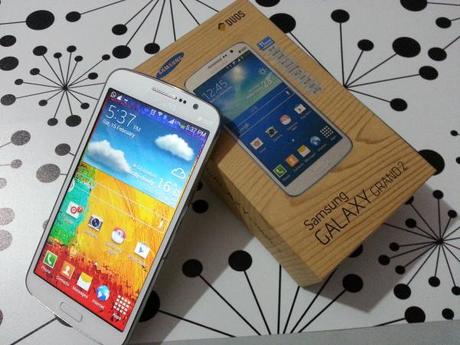 Samsung Galaxy Grand 2
Samsung Galaxy Grand 2, the second device in Samsung's hugely popular Grand series, was released in December 2013. I wrote a post about it then describing Grand 2′s main features and specifications. But this post is going to be about Grand 2 also. I recently got the chance to try out Grand 2 over a period of several days. And as my familiarity with this device increased, so did my appreciation of it.
 Galaxy Grand 2 is a big screen phone, possessing many of the features found in Samsung's flagship phones. But Grand 2 makes these features available at much less the price of phones like Galaxy S4 or Note 3. And as long as you don't put it side by side with such high-end phones, it is capable enough of giving the users the feel of using a premium device.
 So, here are some of the things that especially delighted me in Grand 2: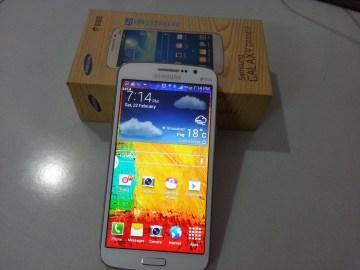 Display: Grand 2 has a big 5.25" HD (1280×720) TFT display. That is, it has a big, bright display which can make reading, browsing net, using social networking sites, watching videos easier and more fun. When you compare the display of Grand 2 with high-end devices like S3, S4 etc, you will sure notice a difference. The colours of the more expensive devices will look brighter and the pictures crispier and with better contrast. But by itself, Grand 2′s display is quite a pleasure.
Performance: Grand 2 has Quad Core 1.2GHz processor, 1.5GB (RAM) and Android 4.3 (Jelly Bean). And these specifications ensure that the functioning of Grand 2 is smooth and stable. In the ten days that I used this device, it never once suffered a lag or hang up. I found its operation swift and smooth, even while multi-functioning.
Multi-Window: Grand 2 is capable of multi-functioning through features like multi window and pop up player. Using multi window, the user can easily operate two apps together. The feature also includes easy drag and drop capability which allows for content to be copied and pasted from one app to another by easy drag and drop. The pop up player allows the users to continue watching the video even while using other apps like Messages, internet browser etc.
Keyboard: I liked the keyboard of Grand 2 a lot too. It has continuous input, that is, words can be typed just by sweeping the finger from one letter to the other. What I liked best about the keyboard is that the numbers are displayed above the letters. So there's no need to keep on shifting between letters and numbers while typing. I didn't have any problem with the word prediction either.
Easy Home: Grand 2 has Samsung's TouchWiz launcher, of course, both in general mode and easy mode. I didn't notice many differences in the general mode. But there's a whole lot of difference in the easy mode. I actually liked the simple look of the Easy Mode in Grand 2! One might even use it just for the sake of variety!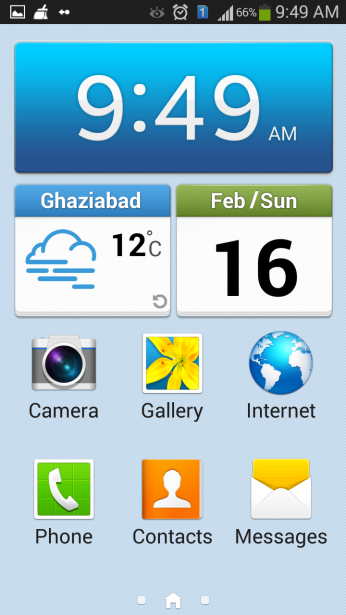 Easy Home
Camera: Grand 2 has 8MP (HD) rear camera with AF + LED Flash.  Front camera is 1.9MP (HD). Camera modes include Best Face, Best Photo, Continuous Shot, Sports Dual Shot, Shake Detection. It has full HD video recording capability. The video recording also allows the recording to be paused, and then resumed. There are no special effects, however, in the camera. The camera can be controlled using voice commands.
Lockscreen: The Lockscreen of Grand 2 has several customization options. The clock on lockscreen has three size variations. Several other lockscreen widgets can be added to operate several functions right from the lockscreen. The screen on the right side of the default lockscreen is reserved for just two widgets. One is the Camera widget which switches the camera On right from the lockscreen. The other is Favourite Apps widgets on which shortcuts to favorite apps can be added. Only one of these two widgets can be used at a time. Several other app shortcuts can also be added to the dock of the lockscreen.  Also, Grand 2 has two different unlock effects – the ripple effect and the light effect.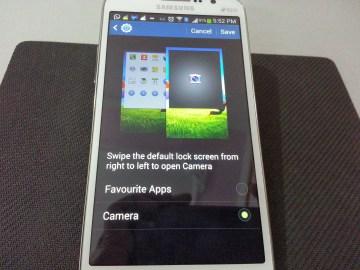 Lockscreen Widgets
One handed Operation: Samsung Galaxy Grand 2 is a big screen phone. Using such a big touch screen may not be very easy for everyone. To make it easy, Grand 2 has the option to switch to the one-handed operation by reducing the size of the dial pad, keyboard and even other screens. The position of these can be switched to left or right easily.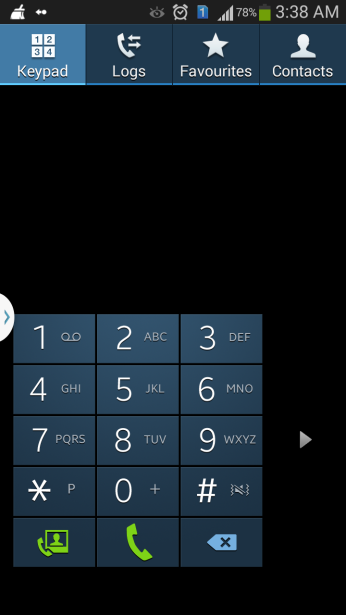 Keypad adjusted for one handed operation
Voice Commands: Several functions can be carried out using just the voice commands. Four Wake Up commands can be set up to access different apps of the phone. S Voice can be used to perform Search, set up Alarms, check weather etc. Also, using voice commands, one can control camera, music player, radio, alarm etc.
Safety Assistance: Another feature that I really liked is called Safety Assistance. This feature can prove really helpful in case of an emergency situation. Safety Assistance can be triggered by pressing the volume up and down key for three, four seconds. When triggered, it sends emergency message, along with location details, to pre-selected contacts. It also has an option to send the pictures of the surrounding. These pictures are automatically clicked using both the front and back camera.
My Magazine: Just sweep upwards from the bottom of the Home Screen and it will load up My Magazine. My Magazine makes available three kinds of content in one place. Using just this one feature, users can read news items, view content from their social networking sites, and content stored on the phone like their pictures etc. Using the shortcuts available within My Magazine, one can also access Dialers, Messages, Camera etc. This is one feature that I really like and wish it was available on my phone.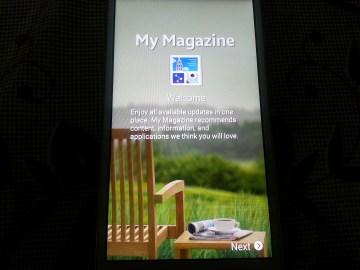 My Magazine
Overall, I quite like Samsung Galaxy Grand 2. With moderate usage, its battery lasted for two days. I found the functioning swift and smooth. It is loaded with many great features. Over all, for smartphone costing about twenty thousand rupees, it has a lot to offer.
*******************
How far can a person go to fulfill the dreams of someone else?