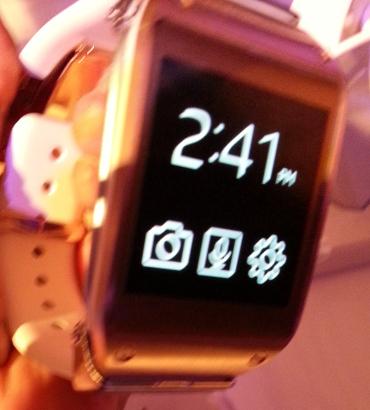 GALAXY Gear
On the 17th of September, Samsung launched in India not one but two of its latest innovations in mobile technology. One was of course the GALAXY Note 3. And the second was Samsung's smart watch that has been designed to act as a smart companion for Samsung's high end smartphones.
GALAXY Gear is as yet compatible with Note 3 only. But as Samsung launches newer devices, and updates some of its older flagship devices, Gear would gain compatibility with greater number of Samsung's phones.
So what is Galaxy Gear? What kind of a watch is it?
Well, it's a watch because it tells the time and can be worn around the wrist. And it's smart, because it is capable of acting as a fitting companion to Samsung's smartphones. It acts like a remote control for the phone, enabling the wearer to access several functions of the phone even while being physically away from the smartphone. For example, even when you are away from your phone, you can still make or receive calls using the Gear, be notified about the incoming mails and messages with previews, play or change music, set alarm.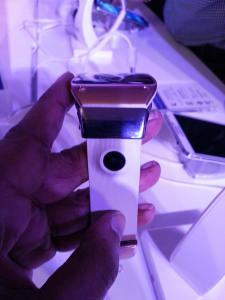 Camera of GALAXY Gear
GALAXY Gear also has a camera to enable the user to click a picture even when away from the smartphone. When the Gear is worn, the camera gets positioned on the outer side of the wrist.
SPECIFICATIONS:
CPU: 800MHz Exynos
Storage: 4GB
RAM: 512MB
Battery: 315mAh
Display: 1.63-inch Super AMOLED display at 320×320 resolution
Camera: 1.9MP camera with BSI sensor, 720p video recording and playback
Audio: 2 microphones, 1 speaker
Connectivity: Bluetooth 4.0 and LE
Sensor: Accelerometer, Gyroscope
Apps: Featured apps from Atooma, Banjo, Evernote, Glympse, eBay, Line, MyFitnessPal, Path, Pocket, RunKeeper, TripIt and Vivino, Samsung Apps and ChatON messaging service
Added features: Relay, S Voice, Find My Device, Auto Lock, Pedometer, Media Controller, Stopwatch, Timer
In India, GALAXY Gear is priced at Rs. 22,990/ and is available in various colors like black, white, red and orange etc. Gear would become available in market from 25th of September, 2013. Before that, it can be pre-booked at Samsung's e-store.
In terms of looks, GALAXY gear is big, and funky looking. It comes with six color choices. Due to its size, it is not for those who have thin wrists!
*******************
How far can a person go to fulfill the dreams of someone else?
Find out in the pages of Dream's Sake,
a general fiction novel by Jyoti Arora.
For more information and free preview of first chapter click  visit: www,jyotiarora.com