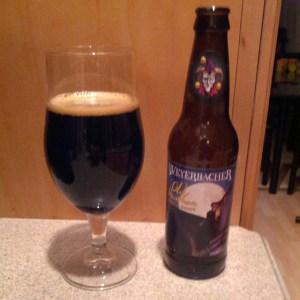 The Night grows long and dark.
Stouts and Porters begin to replace the Pumpkin Ales and summer brews on the shelves.
In the reverse of the normal trend, I had already tried and loved the barrel aged cousin of Old Heathen: Heresy.
I was curious to see how the regular version measured up to the roasted chocolate and coffee notes of Heresy (one of the only BA Stouts I really loved right off the bat).
Weyerbacher describes Old Heathen as: "Rich, velvety and deliciously complex, Weyerbacher Imperial Stout is a truly distinctive winter warmer. We use seven types of malt and two varieties of hops to bring forth this big brew. Quite robust and roasty on the palate, Weyerbacher Imperial Stout has a wonderfully fruity nose and a moderately dry finish. The taste is highly complex- perhaps you'll even discern notes of espresso or chocolate." 
Old Heathen pours jet black with a thin mocha head. Mouth feel is smooth but somewhat watery, with a very dry finish.  Personally, I have not noted any of the huge coco or coffee flavors but there is a nice roasted malt and molasses flavors going on. I was expecting a little more from an Imperial Stout, truth be told.
Very low alcohol presence, something that is a fairly common  theme from Weyerbacher.
Old Heathen could easily be one of your go to Stouts for Fall and Winter.  While not the most intense in the flavor department, you can easily keep coming back time after time without getting tired of it,  an all around easy drinking Stout that will get you through the long cold nights ahead.