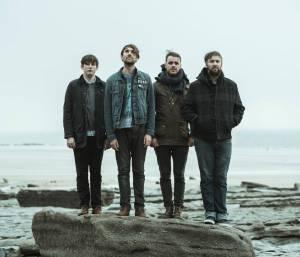 We first saw Cardiff band Samoans on the BBC Introducing Stage at Reading festival back in 2012, and although it's taken the four-piece a while, they've finally released their debut album 'Rescue'. Written while frontman Daniel Barnett recovered from a broken back, the long-awaited record promises to be a turbulent and rather emotional whirlwind, but let's hope they've not forgotten the riffs…
Steeped in gloomy atmospherics, the opening 'Tightrope Walker Complex' is led by a distorted bass line while guitars gradually start to glisten and come to the fore. Chris Rouse's pounding drums are complemented by the crunching guitars and shouted vocals that come in well after the two-minute mark. With string-style effects also signalling the closure of the song, the band show their intentions by stepping fully into post-rock territory. This continues thoughout the second song on the album 'Lightning Beneath the Sea' – a song that offers an approving nod to Oceansize, one of the finest experimental bands of the early to mid-noughties. A slow-burner, when Dan sings 'I'm a landslide' over and over again and 'I'll break through the lightning', you can feel his anguish. Samoans have been booked for this year's ArcTanGent, headlined by Mono and This Will Destroy You, and on this showing you can see why – it makes total sense for them to be in such illustrious company.
Things take a more progressive turn on 'I am Your Density', a hypnotically structured song where Dan appears to be examining himself in heart-wrenching detail: 'Talking to myself now'; 'Will I ever be the same?' Unsettling and disturbing, it's reminiscent of Deerhunter's darker moments and adds an extra element to Samoans' sound. Every song on the album has been expertly crafted, from the math-rock moments of 'The Moth' to the more industrial and noisy, almost venomous, 'A Thousand Knives, A Thousand Wives'. Essentially a loud indie-pop anthem, 'Dancing on the Sea Lion' finds the band at perhaps their most accessible with its ever-changing tempo and duelling guitars bringing to mind the likes of Manchester Orchestra. In an album full of surprises, the biggest one perhaps comes in the shape of the penultimate track 'Apia'. Acoustic-style strums surround a gentle murmur of 'It's a long way down from here' and a more passionately delivered 'Burn it down… the discotheque'. Delicate and perceptive throughout, it's a shock when the Reuben-style guitars come crashing in and the repeated mantra of the first half of the song's 'Crawling through your fingers' now seems to have extra emotional punch.
The last song on the album, the frankly amazingly titled 'Wearing Shorts in Scotland' opens with a question – 'What do you do when I disappear?' This theme of concern is backed up by powerful guitars that will make you both shiver and feel astounded. There's also some menace in Dan's delivery of 'The smile on your face'… Just as the band look to give the full-on rock ending that you'd be expecting, the song settles down into a combination of gently clattering instruments, giving the finale an unexpected air of calm. 'Rescue' is a hugely accomplished record and it's been well worth the wait. Samoans are a fascinating proposition – equally comfortable being tender and uncompromising, yet always electrifying.
Find out more about Samoans:
samoanstheband.bandcamp.com
facebook.com/samoans
@samoanstheband
Filed under: Album review, New music