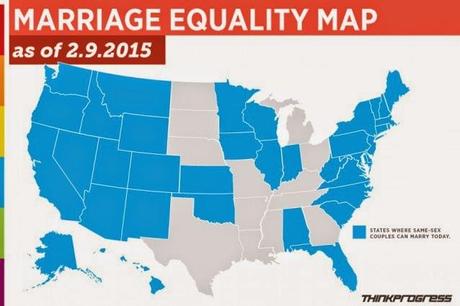 The map above (from Think Progress) shows the new reality. A couple of weeks ago there were 36 states where same-sex couples could legally marry, but now that has climbed to 37. A federal judge in Alabama ruled the ban on same-sex marriages in that state was unconstitutional. The state asked the 11th Circuit Court of Appeals for a stay of that decision, and they were turned down. They then appealed to the U.S. Supreme Court for a stay, and that court also turned them down.
That's means, as of Monday (2/9/15), same-sex couples can legally be married in Alabama. Right-wing heads are exploding in Alabama, and the Chief Justice of the state's Supreme Court, Roy Moore (who has already been kicked off that court once), issued an order he hoped would stop those marriages. He ordered the probate judges in the state to refuse to sign any same-sex marriage licenses, and when asked what would happen if they did, he said:


"Should any probate judge of this state fail to follow the Constitution and statutes of Alabama as stated, it would be the responsibility of the chief executive officer of the state of Alabama, Governor Robert Bentley ... to ensure the execution of the law." 


But while a few judges are following Moore's lead, many others are not and marriage licenses for gay/lesbian couples are being issued -- and the governor has said he will do nothing to stop that, saying:


"Probate judges have a unique responsibility in our state, and I support them. I will not take any action against probate judges, which would only serve to further complicate this issue.

"We will follow the rule of law in Alabama, and allow the issue of same sex marriage to be worked out through the proper legal channels."


But perhaps the best news of all is that only two justices of the Supreme Court (Thomas and Scalia) publicly opposed refusing to issue the stay for Alabama. And in a dissenting opinion, Justice Thomas seemed to be resigned to the probability that there is a majority on that court who will rule same-sex marriage bans are unconstitutional. That means this long struggle could soon be over, and marriage equality will be the law in all 50 states.