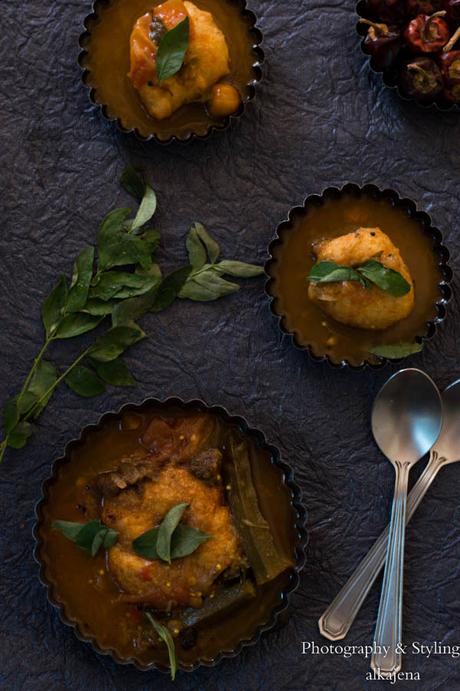 A south Indian Breakfast is never going to complete without the mention of Idly, Dosa, Sambhar, Vada. You can see
these tasty platter of food
at any food joint and road side stalls if you visit South India. During my recent trip to Karnataka, I have seen each and everyone asking for Medhu Vadai which are deep fried crispy vadas served with sambhar and Coconut Chutney and a cup of Coffee.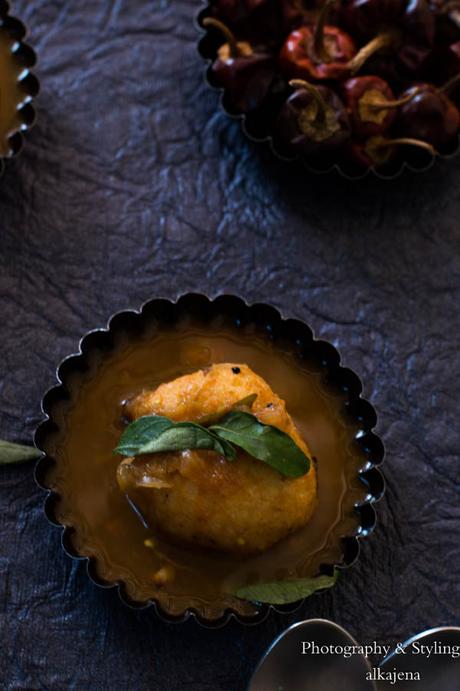 Sambhar Vada is the quintessential South Indian tiffin that features not just in their everyday menu but on special occasions also. Sambhar Vada is nothing but a split black lentils  based fried snack  soaked in mild and flavourful sambar. During the process, the urad dal is soaked and ground together with spices and then deep fried until golden brown. It is served primarily with coconut chutney and sambhar . The best part of this dish is that you can recycle the leftover Vadas , all you need to do is soak the vadas in hot water and then in hot sambhar. This recipe is a reminder of my beautiful short stay at Bangalore and the food there and it's taste is going to remember with me for a long time to stay.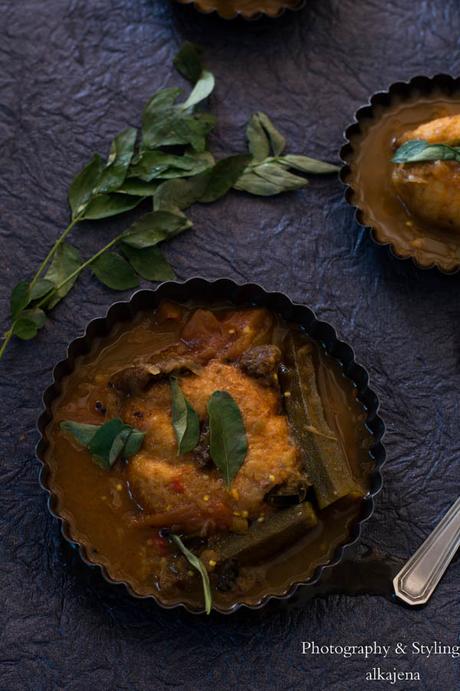 Cuisine: South Indian
Type: Breakfast
Prep Time: Overnight or minimum 3 hours
Cooking Time: 30 minutes
Serves: 6
Ingredients for Sambhar:
½ cup Arhar daal

1 small onion

1 Tomato

1 cup of assorted vegetables like Drumstick, Okra, Raddish, Brinjal, Beans cut into lengths)

1 tbsp tamarind pulp

3 tsp Sambhar Masala

1 tsp Red chilli powder

¼ tsp turmeric powder

1 tsp sugar
For tempering:
1 tbsp oil

1 tsp mustard seeds

2 nos of green chillies

Salt as needed

¼ tsp Asafoetida powder

1 sprig Curry leaves

3 to 4 garlic pods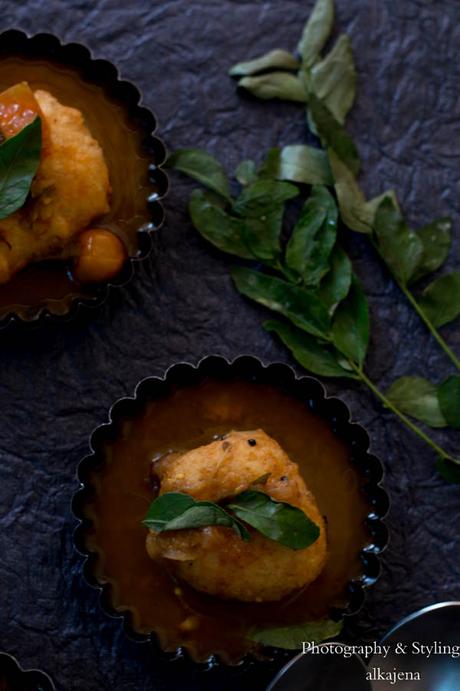 Ingredients for Vadas:
1 cup Urad daal( skinless)

Salt as required

Water as required

1 sprig curry leaves

A pinch of Asafoetida

1 tbsp chopped coriander leaves

Oil for deep frying

1 tbsp rice flour powder 

1 tsp cumin seeds

1 tsp ginger
Let's Learn How to make Vadas:
Wash urad dal thoroughly in water and soak overnight or for minimum 3 hours. Now drain the water if any to a bowl and start grinding the urad dal in a running grinder till the batter is smooth and fluffy. The whole process will take 10 to 15 minutes.
Once done, collect the batter to a separate bowl and add

hing, curry leaves, coriander leaves, grated ginger, salt and rice flour.

  

Combine everything well with a spoon.
Heat oil in a wide

pan with heavy base .

Take a ball of batter and make a whole with your thumb and drop the vada in hot oil carefully. 
Fry the

vadas till it

turns golden

in color. take out from pan and place on a kitchen towel to absorb the excess oil. 
Let's Learn how to make the Sambhar:
Wash and soak daal in hot water for 1 hour and put it in a pressure cooker for 4-5 whistles with salt, turmeric and onion in it.
Once it is cooked, add the vegetables and tomatoes to it and cook till the vegetables are tender. Add the red chilli powder give it a good stir, let it cook for 5 mins more.
Soak the tamarind in hot water and keep it ready,
In a small pan heat oil and add the mustard seeds and let them splutter, add curry leaves, hing, crushed garlic, green chillies and the Sambhar masala and add this to the dhal mixture. You need to check the consistency of the sambhar and if needed add 1 to 11/2 cup of water to it. The Sambhar needs to be in liquid state.
Now add the tamarind paste and the sugar to the dhal mixture and let it cook for 5 minutes , Switch off the gas.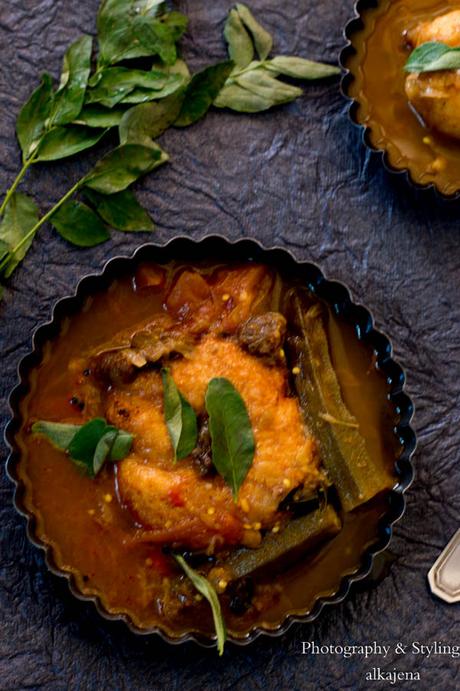 PLATING the SAMBAR VADA
In a bowl take warm water, 

dip the vadas one by one in the warm water and with both palms gently squeeze out the excess water. R

epeat the same until you use up all the vadas.

Place in a serving dish, n

ow pour sambar on top of the vadas. Garnish with chopped onions and coriander leaves and serve warm.

Enjoy your bowl of sambar vada along with coconut chutney & a cup of coffee.
Linking this to Valli's '
Cooking from Cookbook Challenge: June -- Week 3'