Sambhar Dal
…
I love Sambhar but not many people and places do the kind that I like...I cannot stand the Sambhar served in most restaurants here
...
too thin, too sweet , too sour
…
so I happily chomp on the Idilis and Dosas with chutneys and when in the mood for Sambhar, I do my thick dal kind of version to at home and call it Sambhar Dal lest the 'this is not authentic' brigade sues me
!!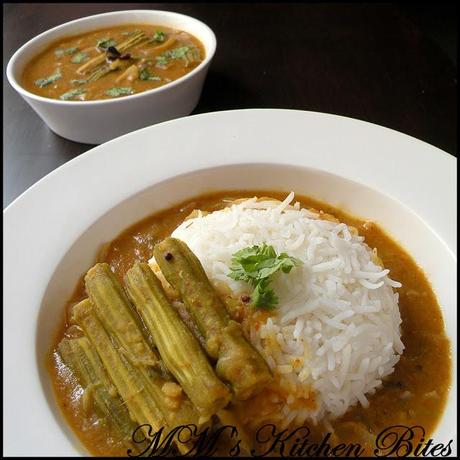 Sambhar Dal/ South Indian style Lentil and Vegetable stew
Ingredients:
Tur/Tuvar/Arhar dal/ Split Pigeon Peas, 1 cup

Water, 4 cups (plus more if needed later)

Salt, to taste

Turmeric powder. ¼ tsp

Tamarind , small lime sized ball (refer to notes below) 

Drumsticks, 2-3, outer skin lightly scraped and then cut into about 3" pieces

Coriander leaves, a few for garnishing
For Tempering
Oil, 1 tbsp 

Mustard seeds, ½ tsp

Methi seeds/ Fenugreek, 7-8

Hing/ Asafoetida powder, a big fat pinch

Dried Red Chili, 1-2

Shallots/Pearl Onions/Sambhar onions, peeled, 10-12 (I didn't have so used regular onions, sliced, 1 large)

Curry leaves, 7-8

Sambhar Powder, 2 tsps (refer to notes below) 

Red chili powder, if needed
Instructions:
Soak tamarind in half cup hot water for 15-20 minutes. Extract a thick pulp and discard the rest. Keep aside.

Wash the dal till water runs clear. Soak it for about 20 minutes.
Pressure cook the dal with salt and turmeric till soft. (2 whistles in the pressure cooker, or you can do it in a pan). Once it cools down, open the cooker and blend the dal well with the back of the spoon. Keep aside

Heat oil in a deep pan on medium heat. Add mustard seeds and fenugreek seeds. When they start spluttering add in the dried red chilies, hing, onions and curry leaves. 
Stir for about a minute and add in the drumsticks. Sauté for a couple of more minutes.
Add in about a cup of water and let the mix come to a boil. Lower the flame, cover the pan and cook till drumsticks are almost done.
Once drumsticks are almost done, add the tamarind extract, red chili powder and sambhar powder.
Stir well and let it cook for a couple of minutes.
Add the dal to the pan and let it simmer for about 10 minutes.
 Adjust seasoning and the consistency to your liking – if too thick, add some water; too thin, let it simmer for another few minutes.
Notes:
Sambhar is not supposed to be either too thin or too thick – IMO, adjust consistency to your liking and call it what you want.
If you don't have Tamarind, add tomatoes. Typically if tamarind is added, it is called sambhar, if tomatoes are added, it is called dal. Go ahead and add either or both.
You can add packaged tamarind extract as well – just read the package and check for taste, as it can be a little sweet at times. Adjust seasoning accordingly.
You can replace drumsticks and add any vegetable of your choice – would suggest not adding more than 2-3 different kinds – ghiya/bottle gourd, drumsticks, tomatoes, onions, eggplants, carrots, green beans, pumpkin are some of the options.
You can add ½ tsp sugar or jaggery towards the end to balance flavors – I don't
If you don't have sambhar masala, add about a tbsp of coriander powder while sautéing the veggies and up the quantity of red chili powder as well or you can make your own Sambhar powder using the below recipe:
Sambhar Powder
Ingredients:
Chana Dal/ Split Bengal gram, 1 tbsp

Urad dal/Skinless Split black lentils, 1 tbsp

Tur/Tuvar/Arhar dal/ Split Pigeon Peas, 1 tbsp

Methi/ Fenugreek seeds, ½ tsp

Mustard seeds, ½ tsp

Coriander seeds, 2 tbsp

Cumin seeds, 1 tbsp

Dried red chilies, 10-12

Curry leaves, 7-8 

Hing/ Asafoetida powder, ½ tsp

Turmeric, 1 tsp

Oil, 1 tsp
Instructions:
Mix all dals and roast on low flame with a tsp of oil till they crisp up and turn reddish. Keep aside to cool.
Individually roast all other ingredients in the same pan except turmeric and hing. Keep aside to cool.
Pls. ensure that you don't burn any one of them.
Once everything is cooled down, dry grind into a fine powder. Done
!!