This weekend the mission president and his wife visited.  This was their first visit to Uzbekistan, so in addition to meeting with the members here, they also did some sightseeing.  One of their visits was to Samarkand, as it is a day trip from Tashkent.  Uzbekistan has put a lot of work into restoring their historical sites and becoming a destination for tourism and opened a fast train in 2011, which makes the trip from Tashkent to Samarkand in two hours.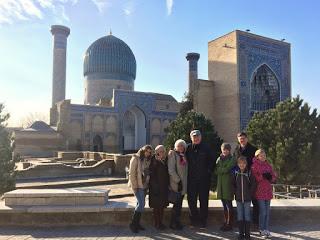 We decided to keep them company, as we haven't visited Samarkand for a few years and it's always really enjoyable to spend time with the mission presidents.  They are unfailingly wonderful people who are a joy to be with.  And also, we get to hear some really great stories.  One of the perks of living in the wild west of the Church is that we get some real personal attention from our leaders.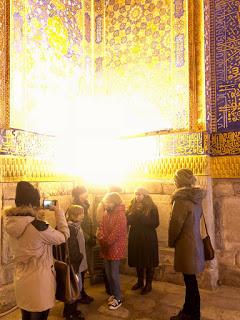 The Davises had spent seven years overseas in Oman and China for work prior to being called as mission president, so Sister Davis, the other sister, and I had a great time swapping stories about domestic help, traveling to exotic destinations, and how great it is to be an expat wife.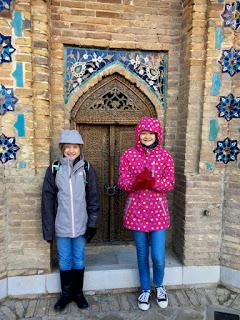 When we discussed going with the children, only Kathleen and Sophia wanted to come along.  I was surprised that Joseph, who wants to come everywhere wasn't interested, but more than happy to hire a babysitter for the four younger ones who opted to stay home in Tashkent.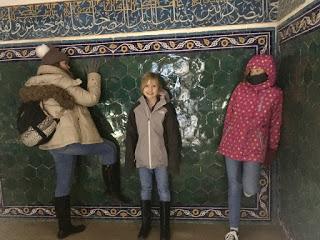 It turned out to be a great decision (and not just because the train tickets were $60 a person), as the weather was freezing.  Thankfully there weren't any clouds and the sun was out, but a constant whipping wind just about negated the effects of the sun.  Around four in the afternoon after seeing enough to satisfy everyone, a unanimous decision was made to call it a day and head back to the train station early.  It's funny how your enthusiasm for sight-seeing takes a serious hit when fingers and toes start going numb.  I'm glad that we have time to go back when it will be a little more pleasant.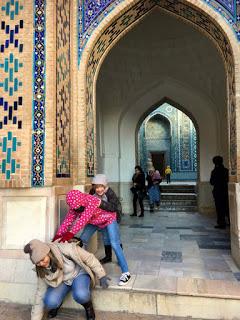 The day started out with some excitement when our taxi driver took us to the wrong train station, but we were able to catch another taxi and made it on to the train with ten minutes to spare.  The train was nice, comfortable, and clean and we had a pleasant journey.  Train travel is so much more pleasant than flying.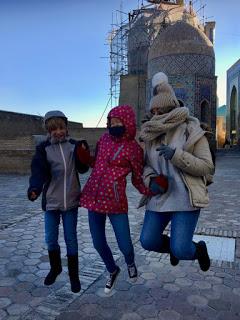 The girls had a great time with another young women in the branch who came with their mother, listening to K-pop in the van together, causing the very good-natured guide to exclaim with (mostly) humorous frustration "Girls!!  I'm trying to talk!!!" during one of his historical explanation.  It warmed my homeschooling-mom's heart to see my girls hanging out and being friends with someone other than each other.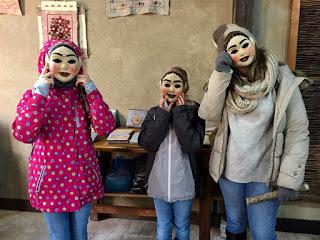 Samarkand itself was, of course, stunningly beautiful, as always.  It was fun to see what new restoration had been undertaken - and also to visit the sites without thirteen children to coral and keep from touching everything they weren't supposed to touch.  Sightseeing is always easier when you have reasonable actors to deal with.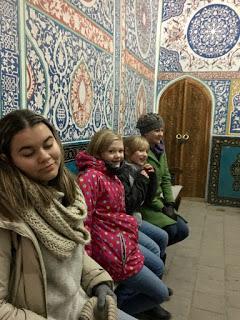 We visited a paper-making site, which was new, and showed how mulberry-bark paper was made historically.  It was pretty interesting to see the process, and I imagine it will be a very pretty place to be when it's not December, freezing, and windy.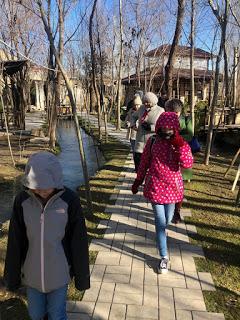 We also visited a bazaar and some shopping spots, helping Sister Davis take a part of Uzbekistan back with her, such a large part that she had to buy another bag to take on the plane with her to haul all of her beautiful treasures back with her to Bulgaria.  I made plans for my own treasures that will be hauled with me eventually.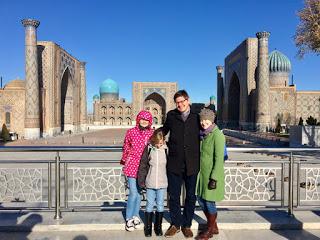 For lunch we had fresh somsas and shashlik, filling ourselves full enough that we could brave the cold again after lunch.  Everyone decided that somsas really should be a thing in America.  It's hard to beat yummy savory meat (or pumpkin!) wrapped in fresh, hot flaky pastry.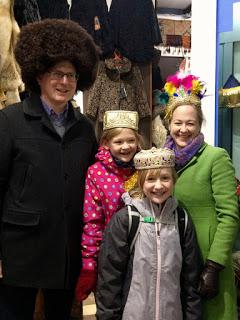 By the end of the day, everyone had had a great time (mine greatly helped by only having two children with me) and were worn out from our adventures.  We spent the entire two-hour train ride back talking together, probably annoying all the other passengers who were trying to get some rest.  It is always wonderful to make new friends.  We're already looking forward to their return next year.