… and seven abandoned parcels in Northern Ireland
In just over an hour's time I am off to Central London to talk about my neighbours live on the radio. Not specifically my neighbours in fact – but ,mine, yours and anybody else's. A major UK insurer recently commissioned a survey on neighbourliness in connection with house buying, and the results found their way into the national press this week. As a result, there has been plenty of discussion about how to be a neighbor on the airwaves this week, and I am off here to try and add some Christian perspective.
Of course Christians have been talking about being good neighbours ever since Jesus started it with his story about a good Samaritan in a bad place.  His story has become so well known that people who have no idea what a Samaritan might be can coin the term in a discussion on social behavior. A Samaritan today may mean anybody from a person who puts themselves out to step in…to a highly skilled telephone listener. Judging by the infographic below, there are plenty of Samaritans, in some shape or form in Wrexham. (Ironically in the 2011 census it also came out as the town with the most Jedi knights in the UK, though that is probably unrelated).
This survey, and my surprise invitation to talk about it on air, came just on a day when I was preparing a sermon on one of the Bible's great unanswered questions. Cain's question in Genesis 4 is left hanging, unanswered, in the air. Maybe the whole of the rest of the Bible is God's answer. It seems as if time and time again it drives home the point that we are, indeed, somehow responsible for each other.More on this with Monday's blog post.
If your neighbor thinks he or she is a Jedi knight – would you help them out if they hurt themselves on their light sabre? What would be the single best thing you could do for your neighbor today?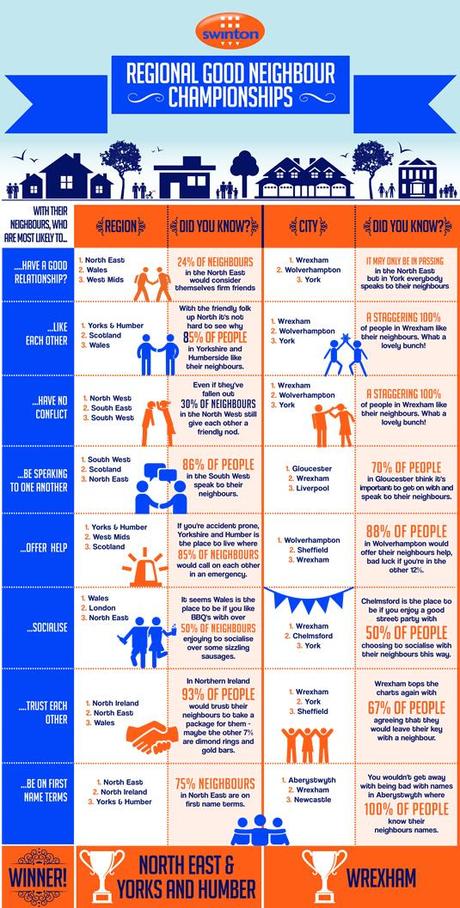 Find out the regional winners in the Swinton Insurance Good Neighbours Championships