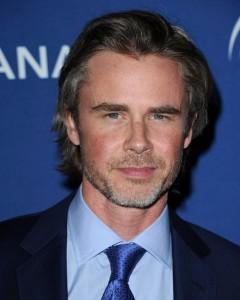 True Blood's Sam Trammell, who has starred as Sam Merlotte since the beginning of True Blood, has already lined up a new gig after the show ends.  He will topline Amazon's drama pilot "Cocked."
Cocked revolves around an estranged son who must return to work with his father and brother at his family's gun manufacturing company after a corporate rival, run by their uncle, moves to take them over.
Sam will star as Richard Paxson, the man who after years of torment from his brother and father, left the family business and has been trying to work his way up a marketing firm to no avail. He has an amazing immediate family that he has worked to keep separate from his extended one for years — until he is forced back into the family gun manufacturing business.
The drama hails from Lie to Me creator Samuel Baum, who will pen the script alongside Manhattan creator Sam Shaw.
Beyond the final season of True Blood, Trammell next has feature The Fault in Our Stars, both due in June. He recently wrapped indie film The Aftermath, which he produced and starred in.
Congratulations Sam!
source: hollywoodreporter.com