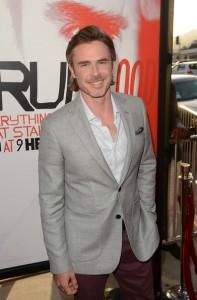 Sam Trammell has joined another hiatus project during his time off from HBO's True Blood, playing the beloved shapeshifter Sam Merlotte. According to a report from the Hollywood Reporter, Sam has joined the thriller Deadweight which is being directed by Leah Walker.
In the film, Sam plays a young partner in a prestious law firm. The production is currently shooting in Sudbury, Ontario, Canada.
Walker's brother Jordan Walker co-wrote the film along with MacGregor Austin-Olsen and also is producing it with Justin Kelly and David Anselmo.
Source: Hollywood Reporter.com- "'True Blood's' Sam Trammell Joins Thriller 'Deadweight'"
Image Credit: Jason Merritt, Getty Images