True Blood's Sam Trammell is off to another surfing event for charity. This time, he will participate in theFourth Annual Project SOS: SURF 24, a celebrity surfathon to benefit Santa Monica Baykeeper, Waves for Water, Inside the Outdoors and Tumelo Home.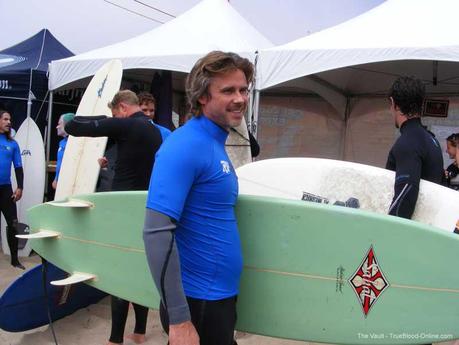 In addition to Sam, celebrity surfers list will include, Tate Donovan (Damages), John Slattery (Mad Men), Jesse Spencer (House), Richard Burgi (Desperate Housewives), Chad Lowe (24), Gregory Harrison (One Tree Hill), Michael Munoz (Amazing Race), Zoe Bell (Death Proof), Pat Parnell (Fuel TV's The Daily Habit), Chris Bruno (Dead Zone), Galen Gering (Days of our Lives), David O'Donnell (Air Force One), Peter Brinkerhoff (Daytime Emmy winning director), Preston Davis (Entourage), John Philbin (Point Break) and Kathy Zuckerman (Gidget).
Noted surfers participating include Jon Rose, Mary Osborne, Don Bigelow, Buttons Kaluhiokalani, Erin Edwards, Chuck Patterson, James Pribram, Courtney Conologue, Trae Candy, Jesse Faen, Jessie Timm, Dougie Tanaka Jr., Angie Reno and PT Townend.
There will be 12 teams of 24 participants per team. Each person on a team surfs for 45 minutes. Team members are encouraged to raise $500 per person with 100% of total donations going to charity. Skill level is not a priority. Prizes will be awarded to the individuals and teams
who raise the most money.
The event will also feature daytime activities for the whole family including live music, mural painting with Joanne "Art Miles" Tawfilis, guest speakers, yoga and eco-friendly exhibits.
WHEN: Saturday, October 15, 2011 – 8:00 am to 5:30 pm
Sunday, October 16, 2011 – 8:00 am to 5:30 pm
The Celebrity Surfing Session will take place on Saturday, October 15th and Sunday, October 16th from 10:15 am to 11 am.
The Pro Surfer Session will take place on Saturday, October 15th and Sunday, October 16th from 9:30 am to 10:15 am.
WHERE: Lifeguard Tower 28 in Santa Monica, just south of the Santa Monica Pier (Ocean Park & Barnard Way).
ABOUT: Santa Monica Baykeeper is an environmental non-profit that works to protect and restore the Santa Monica Bay, San Pedro Bay and adjacent waters through enforcement, fieldwork, and community action.www.smbaykeeper.org.
source: losangeles.broadwayworld.com