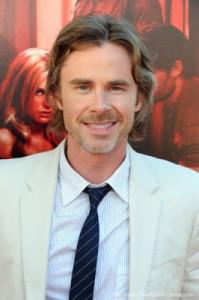 True Blood's Sam Trammell is to be among the celebrities to attend Boston's Super Megafest in November.
BOSTON SUPER MEGAFEST 2011 & COME TOGETHER MUSICFEST will be held on Saturday, Nov. 19th: 10:30am – 6:00pm and Sunday, Nov. 20th: 10:30am – 5:00pm.
New England's Largest Multimedia Fanfest will have Incredible Celebrity Guest Signings and Q & A Sessions! HUGE Comic & Collectibles Dealer Room!
Spend the day with all your favorite celebrities from Comics, TV, Movies, and Rock & Roll. The Super Megafest also features an incredible dealer room with one of the largest selections of DVDs, posters, autographs, comics, toys, videos, non-sports cards and memorabilia from TV, Movies, and Rock & Roll that you will ever find on the East Coast.

The SuperMegafest will take place at the Sheraton Framingham Hotel. Call the Sheraton at (508) 879-7200 to book rooms.
Phone in your hotel reservation by Nov 18th and mention Super Megafest for a special $104/night room rate.
Read more about this event by going to: supermegafest