Sam Trammell has his own look on True Blood. He's kind of unkempt, but cute at the same time. He doesn't seem to think much about his "look", but below we find out that Sam can be pretty fashionable when he wants to.
In the photos below by Mr Paul Jasmin. Styling by Ms Arianne Tunney and an interview by Mr Christopher Goodwin we learn that Style determines character for Sam.
Below is part of an interview with Sam where he talks about his roots in Louisiana and his role of Sam Merlotte.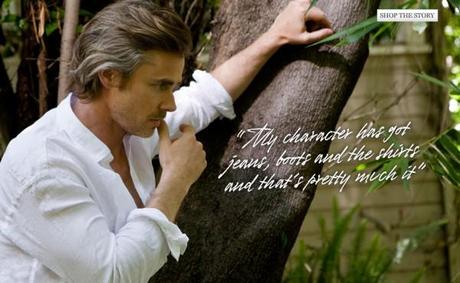 "I was born in Lousiana, and I have family down there," Mr Trammell tells me in an accent that betrays none of his Southern roots. "So when the show started, I went back and I saw the kind of guys that I thought Sam would be like and those guys wore Wrangler jeans and cowboy boots. Any man wearing those things could be Sam Merlotte. Sam is a guy that doesn't think about clothes. He's got jeans, boots and the shirts and that's pretty much it." Except when Mr Trammell takes them off, which happens surprisingly infrequently.
That sartorial earthiness and lack of fuss suits Merlotte, one of the more grounded of the show's characters. He's a good man, if mysterious, protective of Sookie (played by Ms Anna Paquin), for whom he holds a torch, fending offmortal danger from vampires and other supernatural aggressors, while succumbing to many and varied sexual temptations.
Sex has been a key ingredient of True Blood's success. The audience for the show in the US has grown every season and now tops nearly five million viewers an episode. The New York Times recently described True Blood as "a saga of natural and supernatural desire… [where] the Freudian underpinnings of a stake through the heart have never been more vivid."
"We are always put in very tight clothing," says Mr Trammell, sipping coffee in a Fifties diner in East Hollywood late one afternoon. "I wear a couple of sizes smaller than I usually wear. Everybody has to peel off their clothes at the end of each day – not to mention that you have to stay in ridiculous shape because of all the shots without your shirt on."
To read the rest of this interview, go to mrporter.com
Below are some photos that accompany this interview.