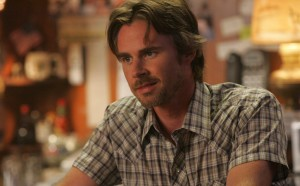 Sunday night's episode of HBO's True Blood left a lot of people wondering where the show is going to go from here.  We have already heard hints that it is a bloody season finale and TV Line caught up with Sam Trammell (Sam Merlotte) to talk about his dual role in Sunday's episode, having Stephen Moyer (Bill Compton) directing him, and what he describes as a "Holy sh_t" cliffhanger at the end of Season 5.  Warning this article has spoilers – if you have not seen last Sunday's episode do not read any further!
As the tension mounts for shifters in Bon Temps, Luna (Janina Gavankar) is running on anger and worry for her daughter.  All of this frustration boils to the surface and we find Luna has "shifted" into Sam.  When TV Line caught up with Trammell after the episode had aired, he said that the writers were really excited about the idea and that excitement caught on with Trammell.  He knew it was going to a demanding scene to film but he also wanted to bring some humor into the mix, despite the way it ended:
When I read it, I really saw it as being kind of humorous, but we always wanted to play it straight. The stakes were pretty high for Sam and for Luna, so we tried to shy away from playing the humor… The whole situation is so insane that I'm sure it's pretty funny. [Laughs] There were definitely different peaks and valleys [in the episode]. The very end, sort of when Luna is dying, that was a serious scene. But then they added the thing where I almost kissed myself, so that was quirky. I think that's one of the things that the show does well; it kind of bridges different genres.
Trammell says he worked with Gavankar and watched her read lines to help him get some of her speech patterns down pat.  He says that for 10 hours they kept switching from "her" to Sam and going back and forth for that long was really exhausting. 
Making this episode even more interesting is the fact that Stephen Moyer (Bill Compton) was taking his first crack at directing the hit show.  Trammell says that Moyer was very easy going and so well prepared that you wouldn't have known it was his first time.
At the end of the episode it appears that Luna is not going to be making it into Season 6 and Trammell reveals that Sam has been set on a path and that much of his storyline for the remaining episodes will be following that path.  He also reveals that some "crazy stuff" happens in the next episode and that fans will continue to be surprised.  And what about those rumors that the season finale will be bloody and the body count will be high?  Trammell had this to say and it makes us even more anxious to see what happens but sad that we have to wait another 9 months to find out the answers:
I think we have one of the best season finales we've ever had. For sure. There's definitely going to be a ton of blood spilled and a lot of people die. The very end [of the episode], people are going to be like, "Holy s–t!" It's a major, major cliffhanger.
Source: TVLine.com – True Blood's Sam Trammell Talks Sunday's Shift Shocker, Teases 'Major' Finale Cliffhanger
Image Credit: HBO, Inc.