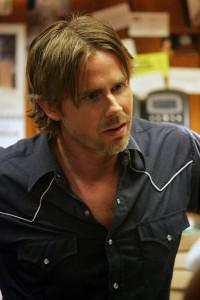 True Blood's Sam Trammell (Sam Merlotte) will be in Manhattan Beach, LA on August 17th at the grand opening of Kiehl's new location to show his support for Project Angel Food.  Trammell will be at the Kiehl's, located at 3200 Sepulveda Avenue, from 11am to 1pm along with Alan Cumming (The Good Wife).  The first 50 people there will receive a free gift but all weekend everyone who goes to the store will receive a free facial and skin consultation along with a sample.
Project Angel Food is a charity that delivers meals to people affected by HIV/Aids, cancer and other life threatening illnesses.  They deliver over 13,000 meals every week to people in need.  For more information on this organization and how you can help, click here.  Kiehl's will be donating 1% of the 2012 sales from this new location to Project Angel Food.
Source:  LAMag.com – Alan Cumming and Sam Trammell Support Project Angel Food at Kiehl's Store Opening
Image Credit: HBO, Inc.