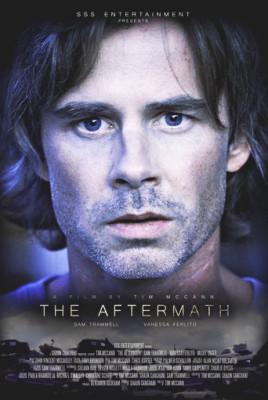 Sam Trammell's new film, "The Aftermath" gets a world premiere as part of the lineup for the 18th  at the 2015 Dances With Films Festival on Sunday, May 31st at 5:00pm in the Fusion Features category. The film will be shown at the TLC Chinese Theater in Hollywood.
Directed by Tim McCann the film stars Sam, Vanessa Ferlito and Missy Yager, and about a a heartbroken, drug addicted, and living in squalor, Sonny (Sam Trammell) who becomes obsessed with returning a necklace to his estranged wife for their anniversary. When the necklace is stolen by a gang of criminals led by a tough small-town madam named Franki, he risks his life navigating the seedy underbelly of his Louisiana town to get it back.
Sam Trammell is reported to give an unforgettable performance in this powerful tale of lost love, obsession, and self-destruction. The film is a gritty and honest portrayal of a broken man, desperately seeking redemption.  See previous posts about this film: by clicking here.
The film is produced by Shaun Sanghani and Ben Bickham and executive producer is Sam Trammell. Cinematographer is Alan McIntyre Smith, and McCann and Chris Kursel are the editors. Production company is SSS Entertainment.
Get your tickets here: 2015 Dances With Films Festival
source: theaftermathfilm.com