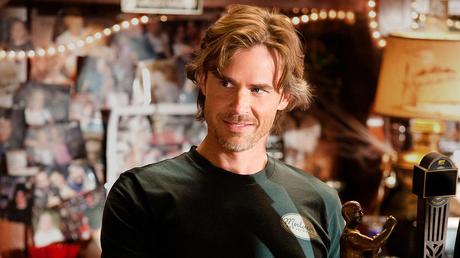 With most of us on the go we catch up on our TV shows online.  Well more and more studios are aware of this and are working on getting better web series out there for us to watch.  One new series that just came out today on Hulu called Paul The Male Matchmaker is making a lot of buzz.
Paul the Male Matchmaker is about:
"Paul inheriting his aunt Cathy's matchmaking service. Despite not being successful at most of his previous endeavors, Paul is convinced that he's qualified to act as a matchmaker, since, as he explains, "I'm really attractive/super-likeable.  I'm a really, really happy person.  And I have a fantastic marriage…to someone who is really rich.  I think I'm going to be super-successful at helping women find love.""
This series was co-created by Liz Tuccillo (He's Just Not That Into You, Sex and The City) and star Paul Bartholomew.  Along with having great people create the show they are going to have a lot of recognizable guest starts such as Janeane Garofalo (The Larry Sanders Show), Lisa Edelstein (House M.D.), Tony Hale (Arrested Development, Chuck), and True Blood's Sam Trammell (Sam Merlotte).
Each episode is going to average between 5 an 7 minutes and is arranged around a certain theme, and all 10 episodes of the first season are currently available online.  Below is the episode that Sam guest stars in.  Let us know what you think.
Article Source: TVOverMind.com – "Paul the Male Matchmaker Preview: New Hulu Web Series Available Today"
Video Source: Hulu.com – "Paul The Male Matchmaker"
Image Credit: HBO, Inc.