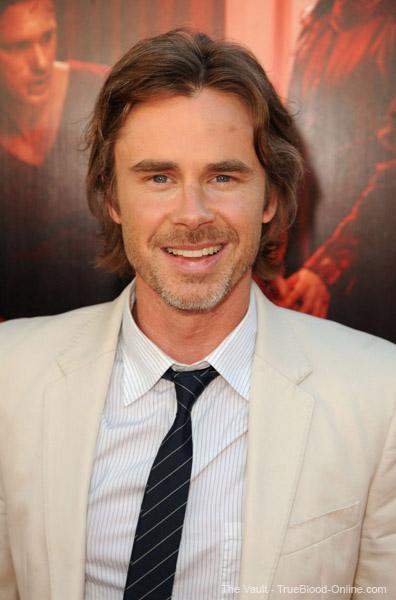 Sam Trammell has joined the cast of of the new independent film, "Long Time Gone."
The movie from Smokewood Entertainment marks co-founder & producer Sarah Siegel-Magness' (Academy Award-nominated "Precious") directorial debut. Academy Award nominee Virginia Madsen ("Sideways") and Golden Globe winner Anthony LaPaglia ("Without A Trace") also star with Zach Gilford ("Friday Night Lights"), Amanda Crew ("Sex Drive," "Charlie St. Cloud"), and newcomer Graham Rogers. Karen McCullah ("The Ugly Truth," "Legally Blonde") wrote the screenplay based upon April Stevens' novel, Angel, Angel.
The story follows a broken family who must cope when Gordie Iris, (played by Anthony LaPaglia) leaves his wife, Augusta (played by Virginia Madsen), for another woman. Their disparate sons, Matthew (played by Zach Gilford) and Henry (played by Graham Rogers), have no idea what to do when their mother refuses to come out of her bedroom for days on end which turns into weeks. When carefree Bette (played by Amanda Crew) enters their lives, her outlook on the world revolutionizes the way each has been viewing this situation. Sam Trammell plays 'Jeff,' an easy-going landscaper, who hires Henry as a day laborer and befriends his distraught mother.
Director Sarah Siegel-Magness says, "The underlying message is that broken families doesn't mean broken people."
Bobbi Sue Luther ("Judy Moody & The Not Bummer Summer"), Gary Magness ("Precious") & screenwriter Karen McCullah are producing this movie under Magness' Smokewood Entertainment shingle. Andrew Sugerman ("Conviction") & Seth Jaret ("10 Things I Hate About You") are executive producing.
Producer Bobbi Sue Luther adds, "From the moment we all read Karen McCullah's screenplay, we fell in love with it. People of all ages will relate to this story in so many different ways, and that's why Smokewood is pleased to make it independently, with our talented cast."
Other key behind-the-scenes filmmakers include Academy Award nominated Director of Photography, Dean Cundey, ASC ("Apollo 13"), Production Designer Cynthia K. Charette ("Austin Powers"), Costume Designer Caroline B. Marx ("Memphis Beat"), and Editor Dana Congdon ("A Walk On The Moon"). Kerry Barden ("The Help") is the Casting Director.
Shooting around Los Angeles at various locations, principal photography started on September 12, and will continue until October 25, 2011, on this independently produced feature film. Sam Trammell's first day of filming was Monday, September 26.
source: collider.com