ReadingEagle caught up with Sam Trammell about True Blood season 4.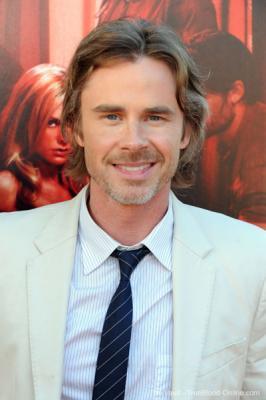 "There's so much I want to tell everyone, and so much I'm not allowed to say," Trammell said cautiously. "Usually we're allowed to talk about things, but this season there are just a couple of big things that I'm not allowed to even bring up. We're always reinventing ourselves as a show, so there are a lot of new characters this year, and, yes, there will be plenty of skin, and I'm sure we've already gone through gallons and gallons of blood. What else can I tell you without getting myself in trouble?
"So in Season 4 I'm dealing with that eruption that happened at the end of Season 3 and also with Sam's past catching up with him," he said. "It's going to be cool, because we'll see more of this shape-shifter community I've met, who are helping me deal with my issues, with all of the betrayal in my life, especially from my first adopted family leaving me because I was a shape-shifter. With this community I can talk about shape-shifting and heal myself a bit.
"And it'll be cool for the audience, because they'll learn a little more about shape-shifting, things we didn't know about the mythology."
Even better, Sam will be getting a love interest during Season 4 – and, no shocker, she'll be a shape-shifter. Janina Gavankar, late of "The Gates" (2010), will play the character, a, pardon the pun, shapely schoolteacher named Luna.
"Luna is a very interesting character, and Sam is very attracted to her," Trammell said. "She's not just beautiful, but she's also mysterious. She's like Sam in the sense that she doesn't want to reveal a lot about herself, about her past or who she is. Throughout the season those secrets start to reveal themselves to Sam, and some of them put Sam in danger.
"So what you've got is that Sam has given up the danger of being around the birth family you saw in Season 3 for this new danger of being around this community of shape-shifters, and especially Luna," the actor explained. "He's exchanged one kind of danger for another. There are some real surprises involving Luna, and let's just say that the birth family that I thought I'd cut myself off from comes back to haunt me as well in Season 4."
Back when "True Blood" debuted – and ever since, really – everyone involved with the show has worried that pretty much any character could be killed off at any time. With a nervous laugh, Trammell admitted that, even after four seasons, he's not sure he has a long-term, steady job.
"Bon Temps is a dangerous town," Trammell said, "and no one on this show is 100 percent sure of anything. Every season that you last, you feel a little more confident that you'll return the next season, but you never know what will happen, and there are definitely going to be some surprises in that department this year.
"I'm just happy each year that I get."